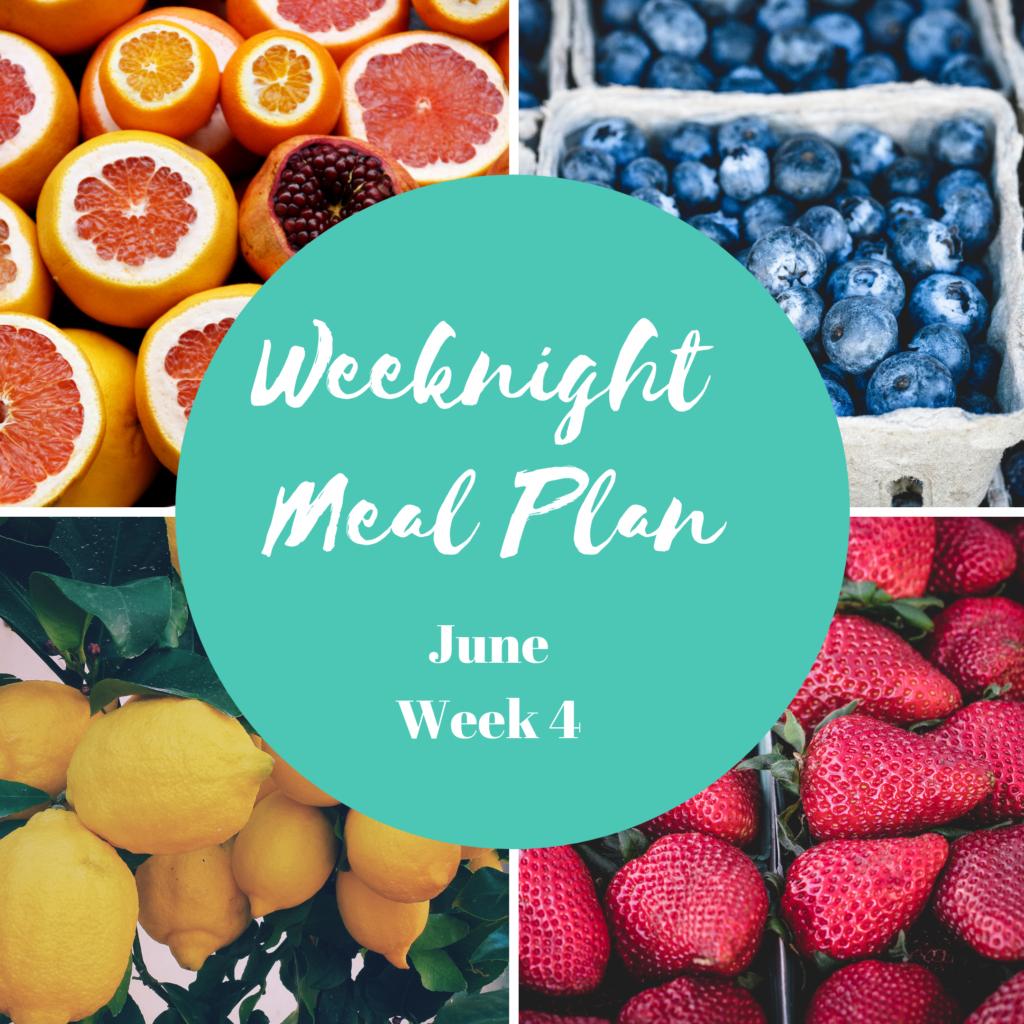 Sharing a meal plan for the upcoming week below!
MONDAY: One-Pot Baked Ziti + Cauliflower
I've said it once and I'll say in again, I believe in easy dinners on Monday Nights. I don't have a lot of one-pot dishes that I regularly make, but this recipe is always a hit with the family. This dish is meatless, but you could easily add in Italian sausage, ground beef or turkey.
Serve with a side of steamed cauliflower florets.
TUESDAY: Asian-Style Cobb Salad
As the temperatures warm up, we often enjoy a hearty salad for dinner. Shredded rotisserie chicken works well in this recipe. This salad has a homemade salad dressing, but I typically just rely on a bottle of Sesame Ginger dressing from the grocery store.
WEDNESDAY: Bruschetta Chicken over Pasta + Dinner Salad
This is another one of those recipes that tastes like summer! The homemade balsamic glaze takes around 10 minutes to make. If you don't feel like making the glaze you should be able to find a balsamic glaze in the vinegar section at the grocery store or you can skip it all together.
A simple dinner salad and French bread (optional) rounds out this meal nicely.
THURSDAY: B.A.L.T (Bacon, Avocado, Lettuce, Tomato) Sandwich + Oven Roasted Potatoes
Back in my days of working at HEB, an older lady once told me how she was always so stressed to serve a hot dinner every single night and that it never occurred to her that it would have been okay to serve the occasional sandwich. I made a mental note right then, it's okay to make a dinner out of a sandwich. So here I am, recommending that you too make a dinner out of a sandwich.
I prefer to cook bacon in the oven at 425F on a wire rack placed on a foil-lined sheet pan. When I get to go to a "big" grocery store, I'm always amazed at the number of frozen potato or fry-like products (i.e. veggie tots). I've tried a few different ones but prefer to simply make my own roasted potatoes. Pick whichever works best for you and your family!
FRIDAY: Leftovers or dinner out!
Have a great week friends! Check back next week for a new meal plan.