An authentic recipe for Texas Style Czech Cream Cheese Kolaches. A tall pastry with a cream cheese filling and posypka topping.
"These are the best thing I've ever tasted in my whole life." – My 7 year old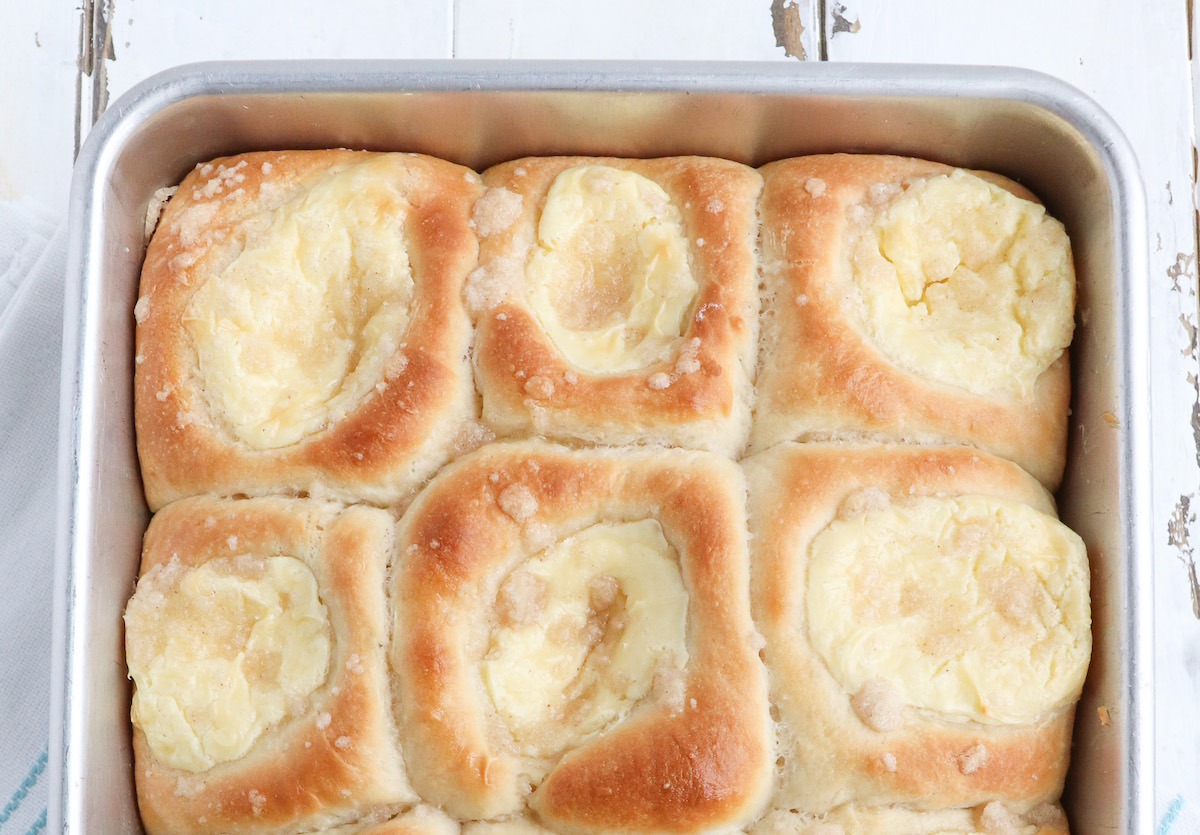 When I think of my culture, including foods and traditions I want to pass down, I consider myself Texan. And kolaches are part of Texan Culture.
While I did not grow up with a Czech grandmother, I've known kolaches all my life. Weikel's and Hruska's were the ones we visited most often. It wasn't until expanding outside of the Central Texas town I grew up in, that I realized the truck stop bakery Czech Pastries were unique to this part of Texas.
Jump to:
Authentic Texas Czech Kolache
After years of being a food blogger, I realized that it was hard to find a true Texas Czech style kolache recipe on the internet. There is an abundance for donut shop style kolaches.
With this platform, it has been a mission of mine to share an authentic Texas Czech Kolache recipe. This recipe is adapted from a prize winning Halletsville Kolache Fest recipe. I have worked this recipe for two years to get familiar with the steps, tips and to write the directions where a general audience could successfully recreate at home.
So today I'm teaching y'all how to bake the tall square kolaches, just like you would pick up at your favorite bakery and gas station in the Czech Belt of Texas!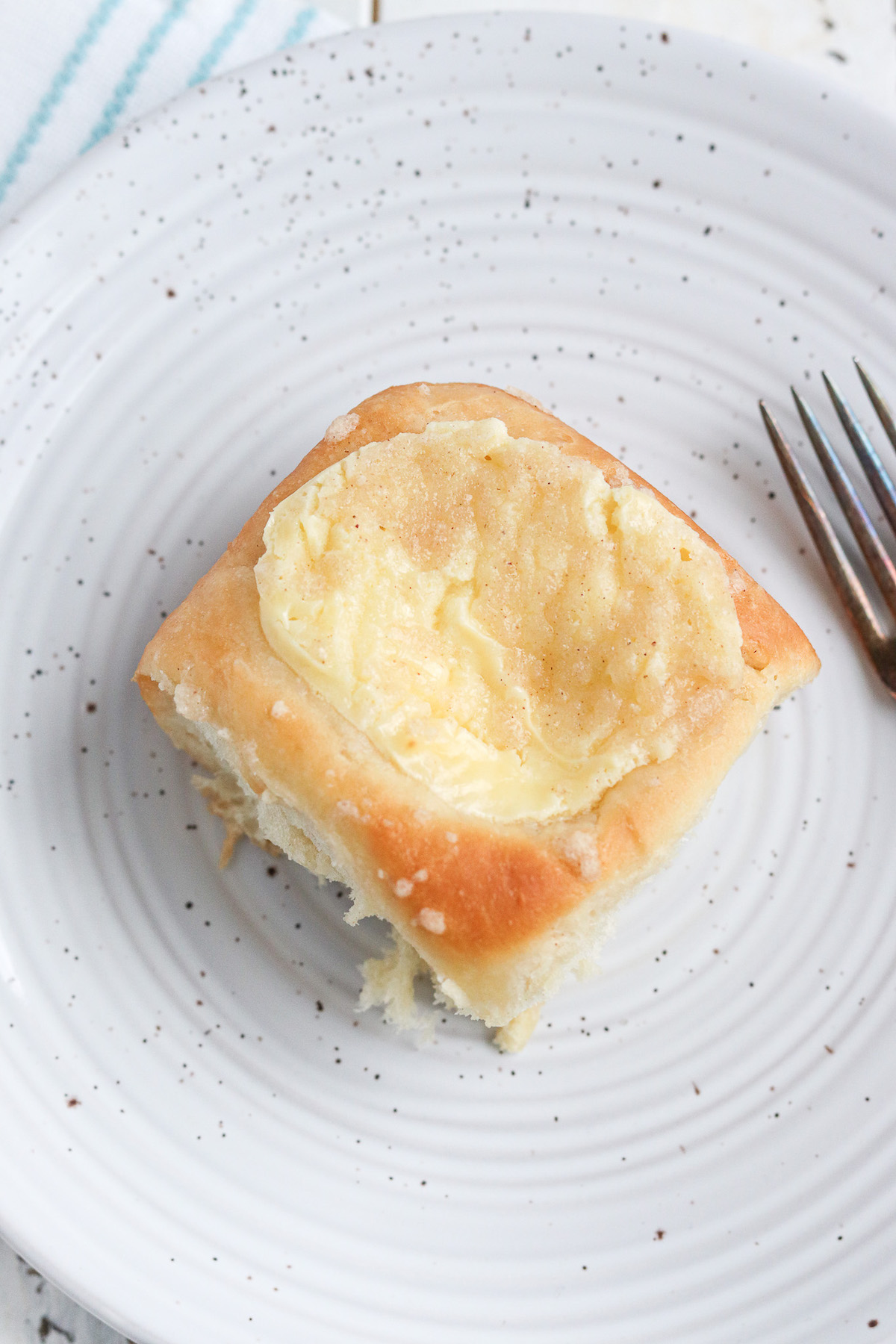 "We're taking Texas to the country, we're taking Texas to the world" – Gary P. Nunn
Cream cheese kolaches were always my favorite. I intend to add variations to my site, but I think this is a good classic one to start with. This post will remain the primary one for the kolache dough recipe.
Parts of a kolache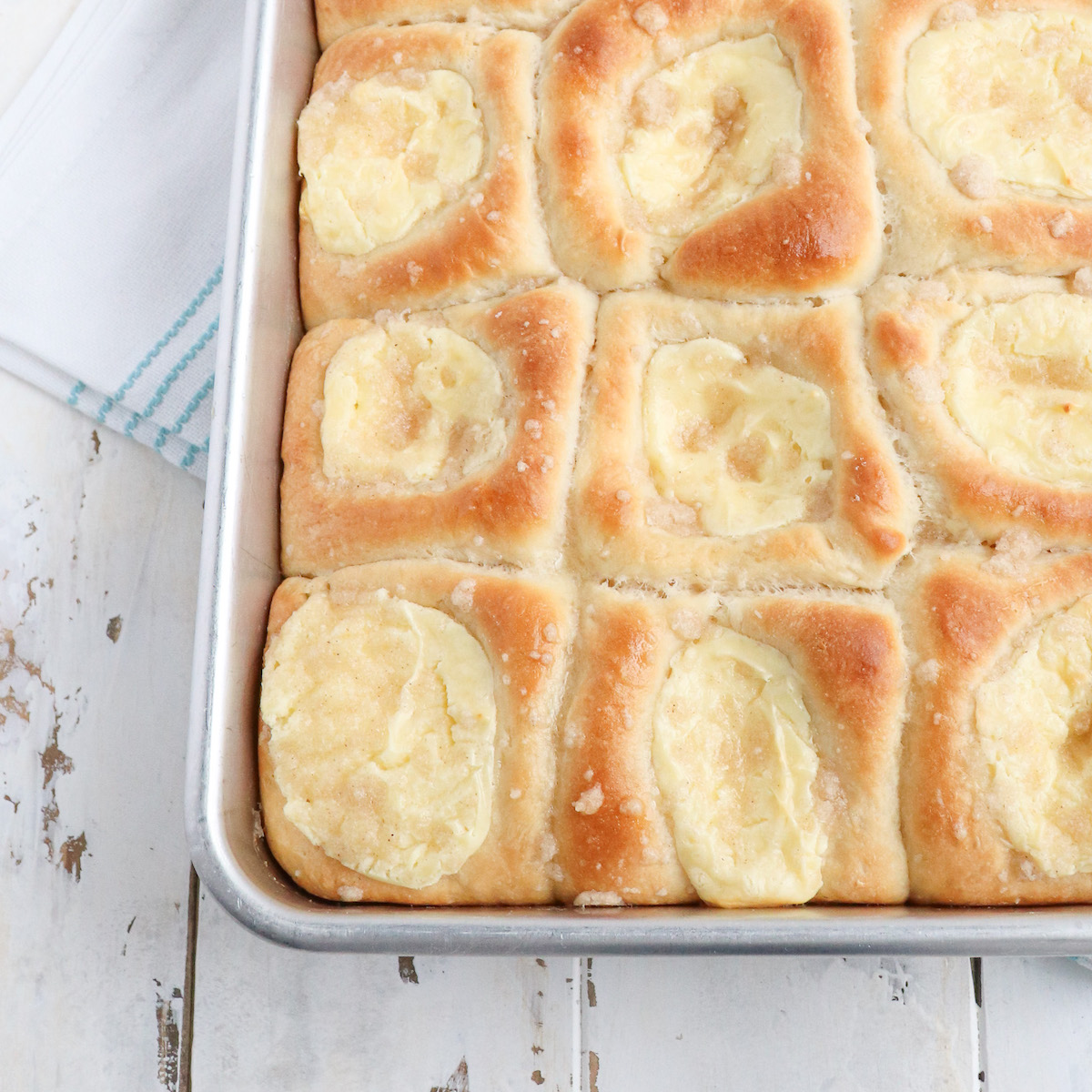 There are three components when it comes to making a kolache – the dough, the filling and the popyska (streusel topping).
Kolache Fillings
Traditional fillings include poppyseed, apricot, prune, cottage cheese, and cream cheese. Other common fillings are apple, cherry, blueberry, pineapple, peach and a variety of fruits topped over cream cheese.
Cream Cheese Kolache Filling
Cream cheese filling is usually flavored with a little vanilla, lemon zest or cinnamon. For this recipe I used vanilla. Substitute one of the other flavors if desired.
The recipe makes enough for 1 Tbsp. filling per kolache. If you'd like more filling, double the recipe and add 2 Tbsp. cream cheese filling per kolache.
Popyska
The streusel topping is a simple mixture of flour, butter, sugar and cinnamon. It makes enough for 2-3 batches of kolaches. Extra can be stored in the fridge.
Making the kolache dough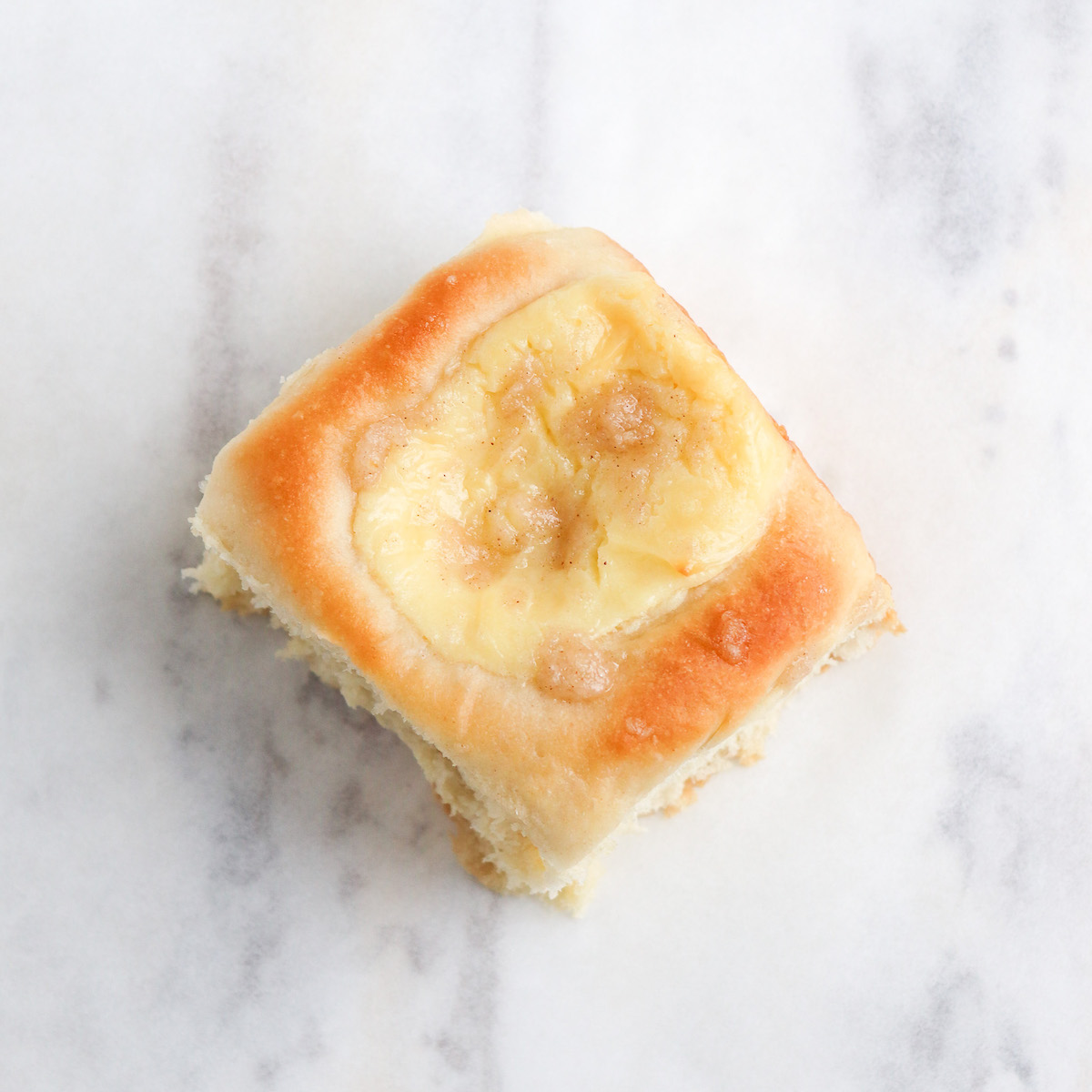 Making kolaches from scratch is a labor of love. The dough is sticky, there are several rises and it takes some practice to get a feel for how the dough and rise should look. I don't say that discourage you, but rather to be honest and share that once you get it down, it is totally worth it.
While you can make these in a stand mixer, there is just something about making them by hand that ensures the dough turns out just right. I recommend making them by hand until you get a knack for the dough.
After making the dough, below are some pictures of how it will look as you progress through the steps.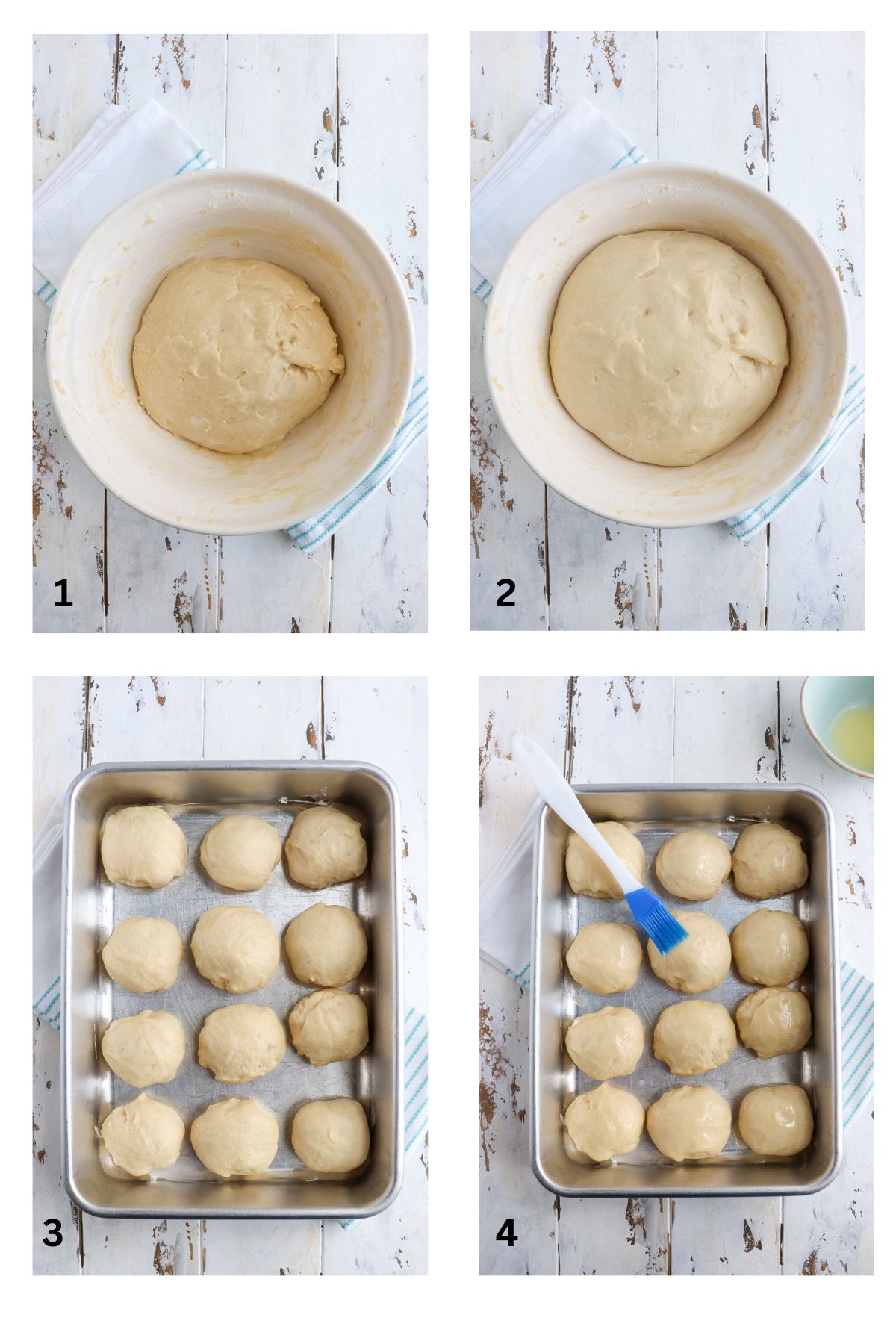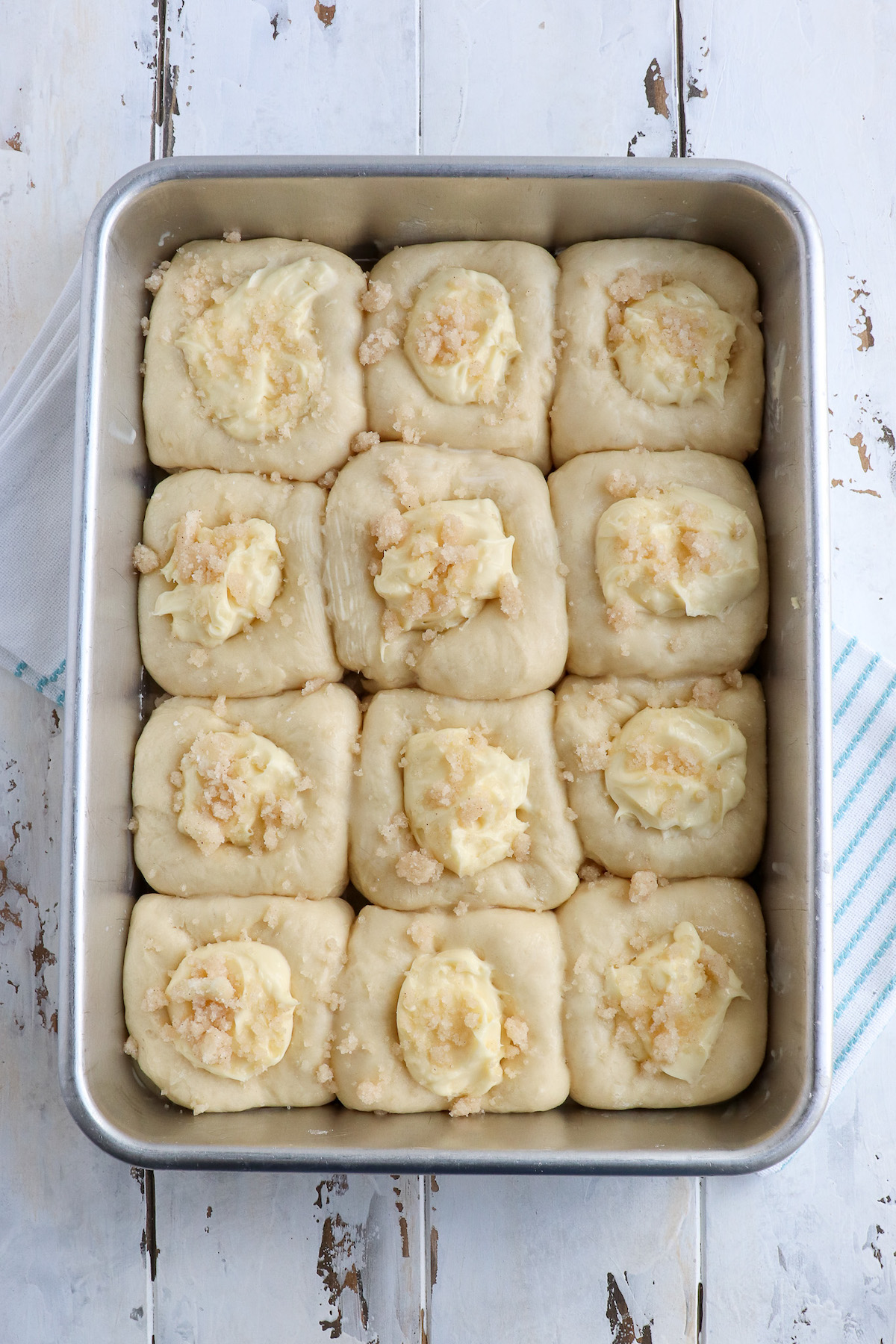 Tips on making the dough by hand
Use a hard surface for kneading the dough.
This youtube video helped me get the technique for kneading the sticky dough down. Somewhere around the two minute mark it tends to get messy and you will wonder if it's going to work out. After making these several times, I'm here to say that it does.
Continue to knead the dough by hand for 10-15 minutes, depending on how fast you go. Dough will be sticky and elastic. Place in a greased bowl and let rise.
After the first rise, the dough should be less sticky and not want to stick to your hands.
Using a stand mixer
If you use a stand mixer to knead the dough, it takes about 10-12 minutes on low with the dough hook. Scrape sides and dough hook occasionally. Dough should be sticky and elastic.
Every time I use the stand mixer, it seems to take an additional 1 Tbsp. of flour.
Variations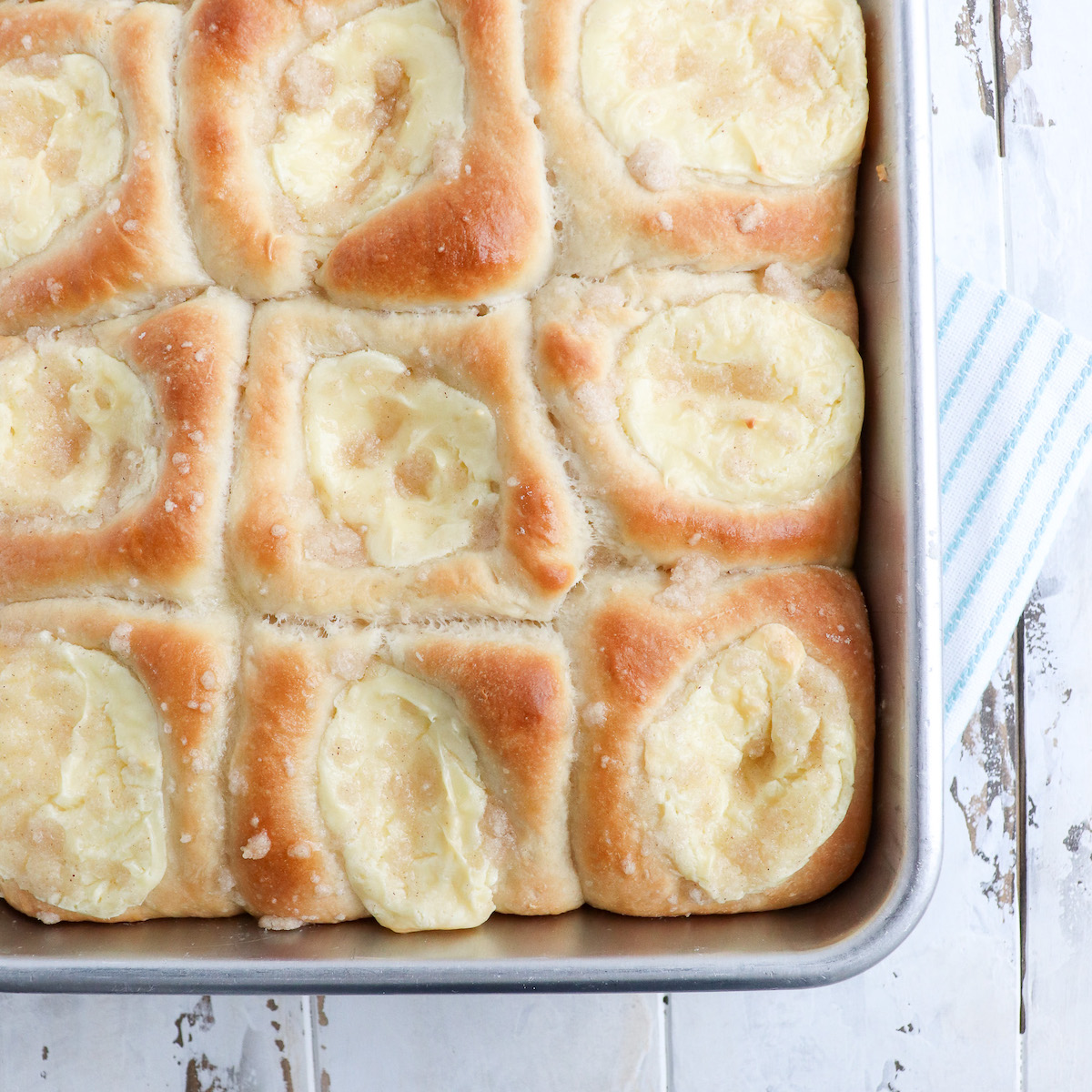 Fruit and Cream Cheese: Add 1 tbsp. of high quality preserves on top of the cream cheese filling. Ideas include peach, dewberry, cherry and blueberry. Some people also like to use pie filling.
Extra Cream Cheese: If you prefer more cream cheese filling, double the filling recipe and add 2 Tbsp. per kolache.
Storage and Serving
After you remove kolaches from the oven allow them to cool for one hour.
Store kolaches at room temperature for up to two days. To preserve freshness after that, place in gallon sized ziploc bag and store in the fridge for up to one week.
Serve kolaches warm or room temperature for breakfast, brunch or a sweet treat.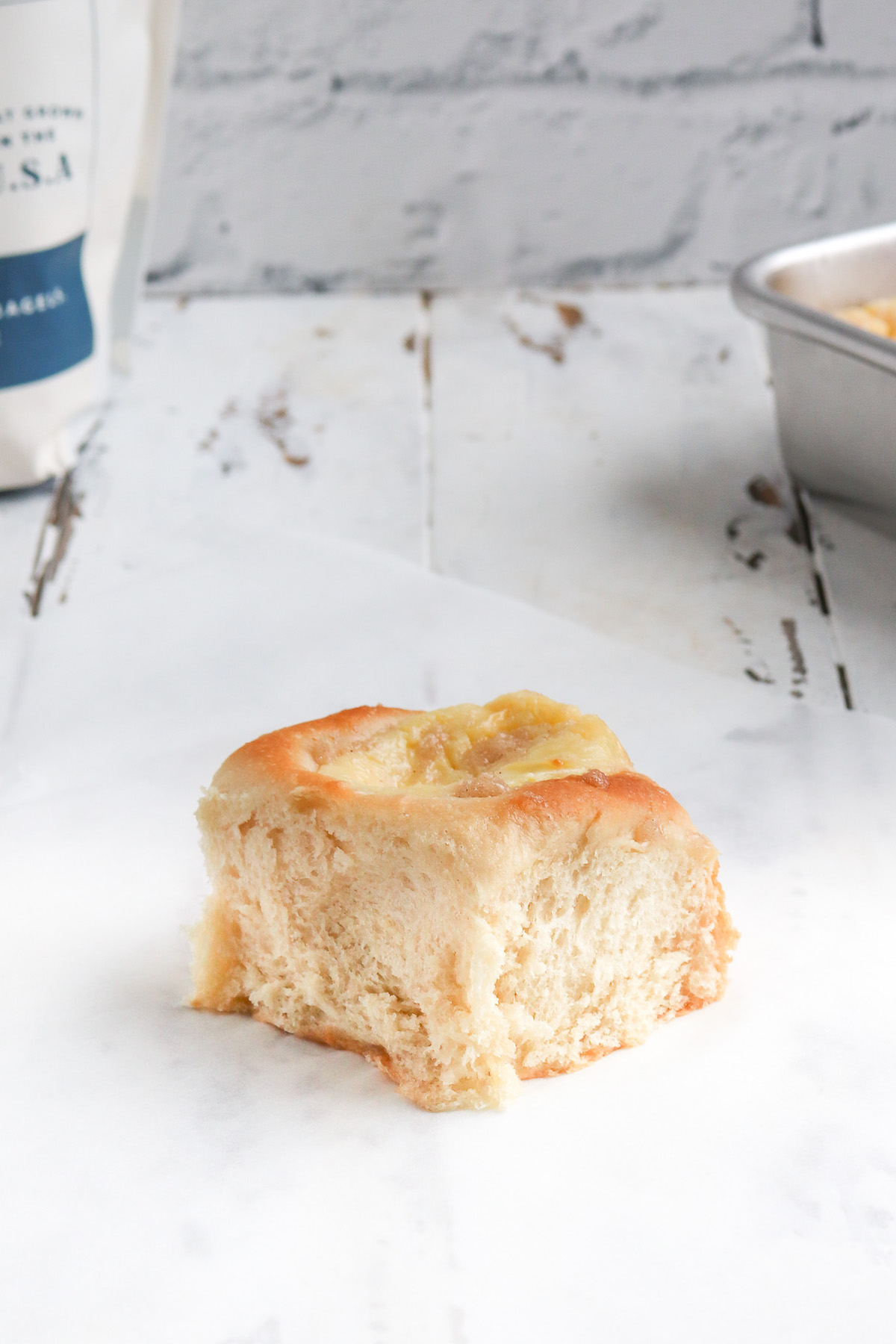 📖 Recipe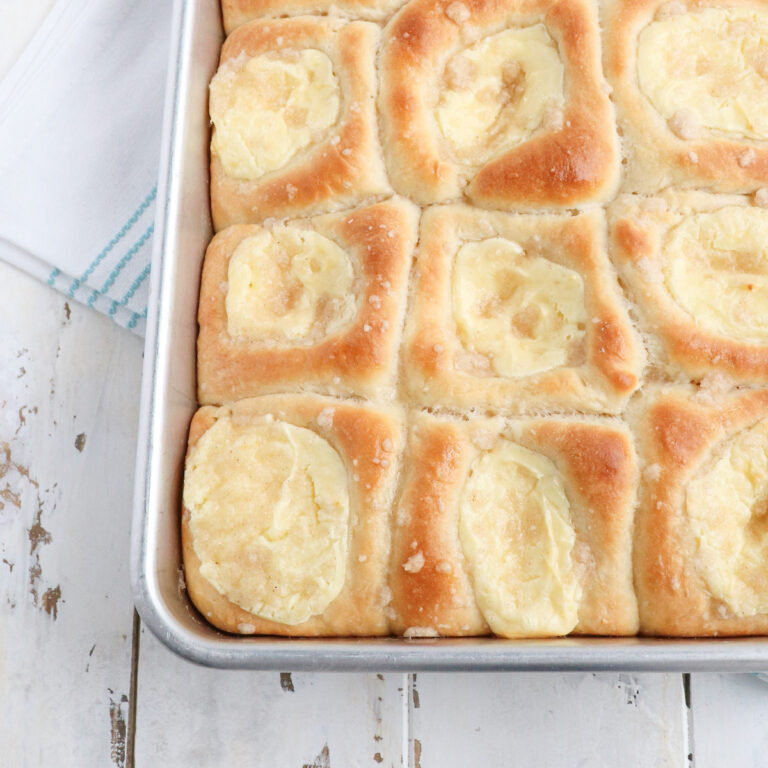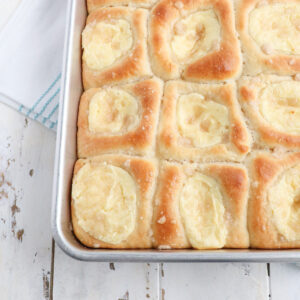 Cream Cheese Kolache Recipe
An authentic Texas Czech style kolache with a cream cheese filling and streusel topping.
Ingredients
Proof Yeast
¼

cup

Warm water

100-110F

2 ¼

tsp.

Active Dry Yeast

( 1 packet)

1

tsp.

Sugar
Dough
½

cup

Sugar

1

cup

Milk

¼

shortening or butter

melted

1 ½

tsp.

Salt

1

Egg Yolk

3 ⅓

cup

Bread Flour

sifted

2

Tbsp.

Butter

melted
Cream Cheese Filling
8

oz.

Cream Cheese

¼

c.

Sugar

1

egg yolk

½

tsp.

Vanilla Extract
Posypka (Streusel Topping)
¼

c.

All-Purpose Flour

½

c.

Granulated Sugar

½

tsp.

Salt

⅛

tsp.

Ground Cinnamon

3

Tbsp.

Butter
Instructions
Activate yeast. Combine warm water, yeast and 1 tsp. of sugar in small bowl. Stir and let sit for 10 minutes. Yeast should be bubbly and have doubled in size.

In a large bowl, stir together milk, melted shortening, salt and the egg yolk. Stir in yeast mixture. Add 1 cup of sifted bread flour at a time until 3 cups are added. Stir until a sticky dough starts to form.

Sprinkle the remaining ⅓ cup bread flour on a hard work surface, turn the dough out onto the surface and knead for 10-12 minutes. Dough will be sticky and elastic. Transfer dough into a lightly greased bowl, cover and let rise for 1 hour.

Punch dough down. Roll into a log and cut into 12 equal size pieces, approximately the size of golf balls (2 oz. each). Place dough balls in a lightly greased 9 X 13 pan and brush with 1 tbsp. of melted butter. Cover and let rise for 30 minutes.

Make wells in the center by pressing a lightly floured ¼ c. measuring cup into the center of each dough ball. Fill each dough ball with 1 Tbsp. of cream cheese filling. Brush sides with more melted butter. Sprinkle 1-2 tsp. of popyska (streusel topping) over each kolache. Cover and let rise for 1 – 2 hours.

Bake kolaches at 350℉ for 28-33 minutes or until golden brown. Remove from oven and allow to cool for about 1 hour before cutting into them.
Cream Cheese Filling
In a high speed mixer, whisk together cream cheese, sugar, egg yolk and vanilla extract for 1-2 minutes or until creamy.
Streusel Topping
In a medium bowl, combine flour, sugar, salt, cinnamon. Cut butter into dry mixture until coase crumbles form.
Notes
Bread flour was measured before sifting. 
Fruit and Cream Cheese Variation - Top cream cheese filling with 1 Tbsp. of high quality fruit preserves such as peach, dewberry, cherry. 
Extra Cream Cheese Filling - Double the filling recipe and add 2 Tbsp. to each kolache well if you prefer extra filling. 
Nutrition
Serving:
1
g
Calories:
305
kcal
Carbohydrates:
43
g
Protein:
73
g
Fat:
12
g
Sodium:
365
mg
Tried this recipe?
Mention @mytxkitchen or tag #mytxkitchen!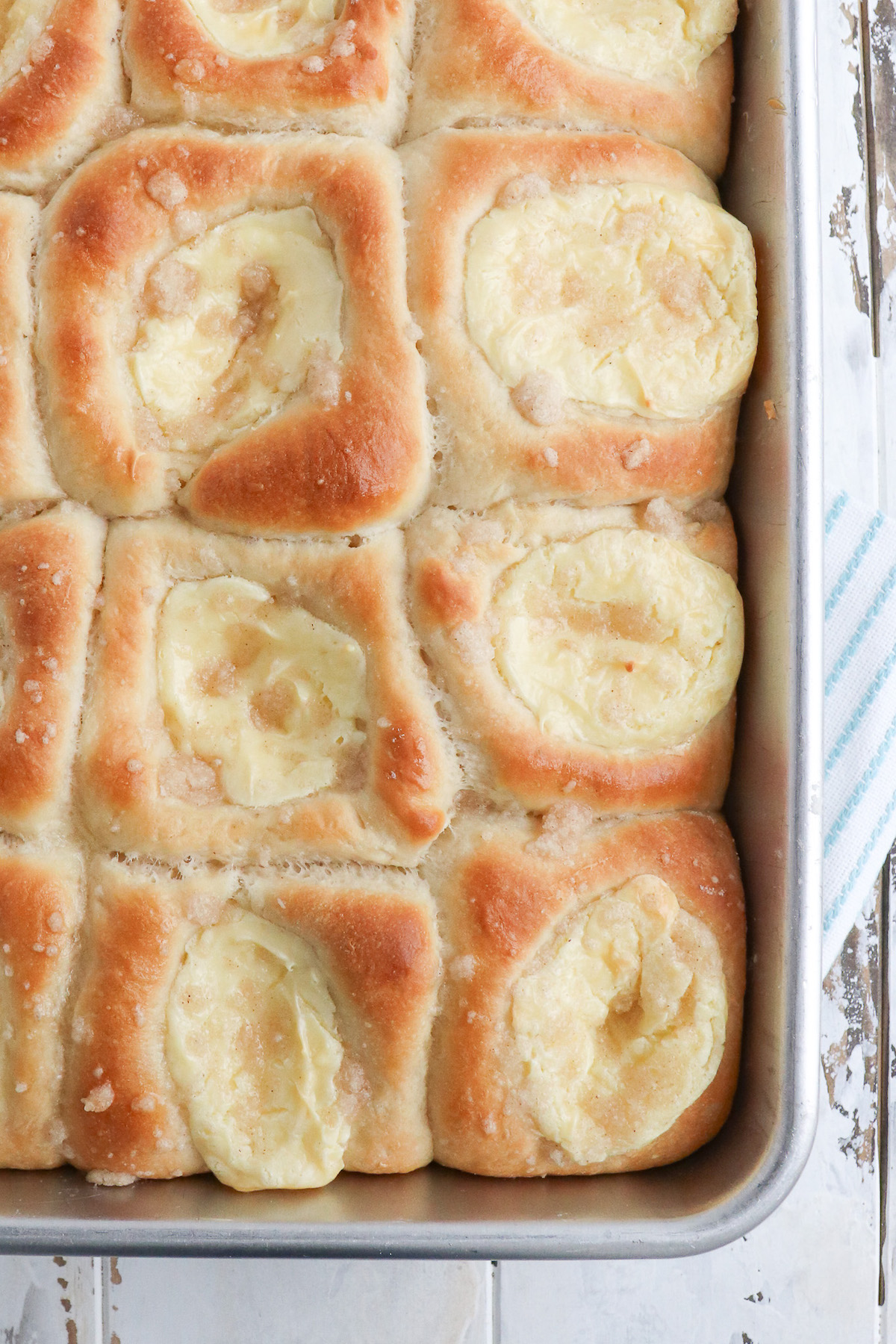 FAQ
Can I use butter in the kolache dough?
Yes - I have made these with melted butter and they turn out great. Feel free to use melted butter or shortening in the dough.
More recipes you may enjoy:
Delighted to share this recipe with y'all - Alaine