Make this Tex-Mex favorite at home with this easy recipe for Crock-Pot Carne Guisada! Beef and spices slow cook resulting in a tender flavorful roast with a rich gravy.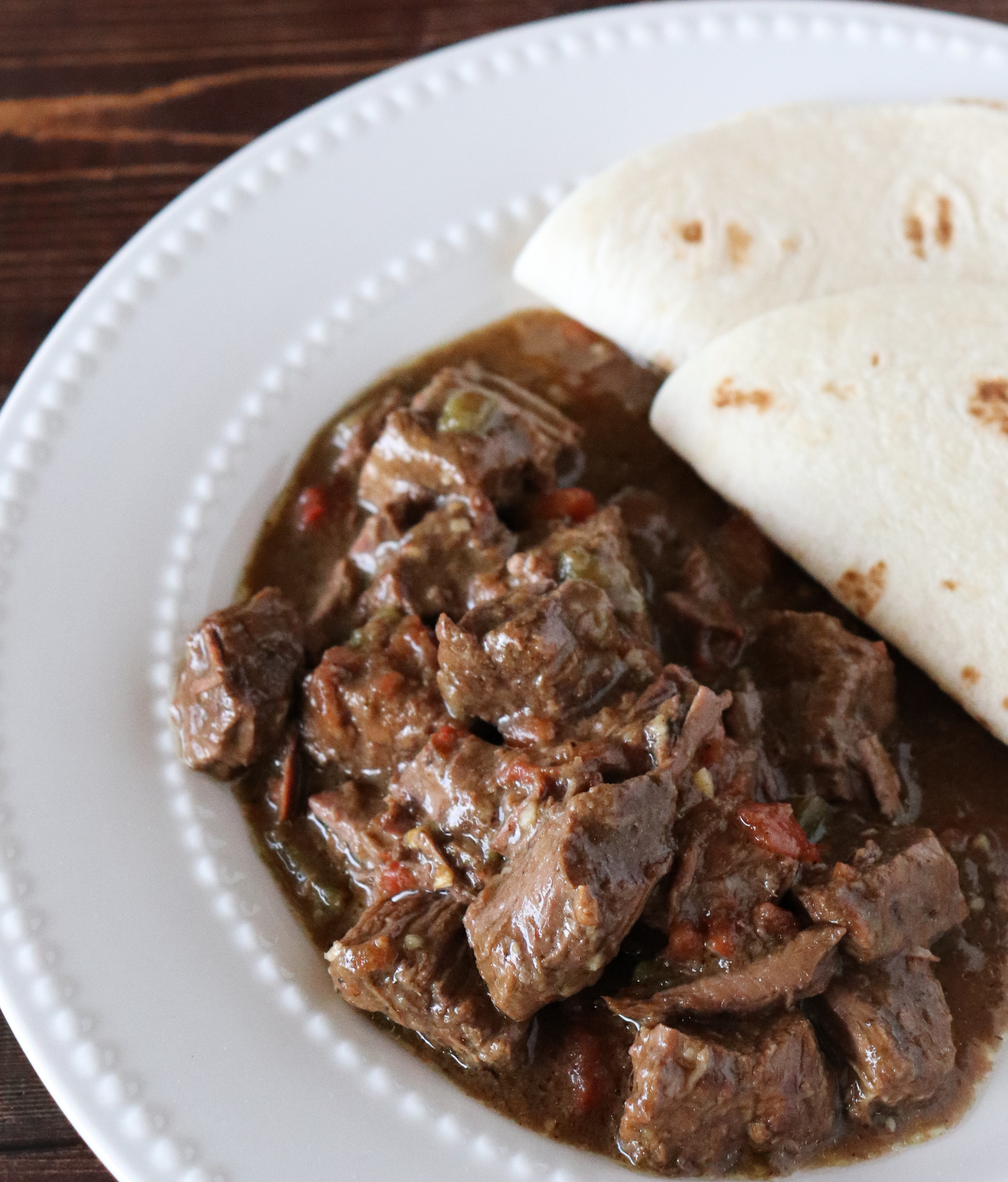 Sometimes the best things in life are simple. I think that goes for food too. This Carne Guisada is simply a roast slow cooked with a few pantry ingredients and a couple of jalapenos. My biggest dilemma in developing this recipe was in deciding whether to add an onion or not. Thinking back to all of the Carne Guisada I have eaten, I couldn't recall any onion in the stew, so I opted to leave it out. I'm sure different variations call for slightly different ingredients but this simple recipe cooks up to taste just like the Carne Guisada from some of my favorite taco trucks and Mexican restaurants.
If your family is anything like mine, this recipe will quickly become a favorite!
Jump to:
Ingredients for Slow Cooker Carne Guisada
Roast – Lean cuts of beef that you can use for this recipe include beef eye round roast, top round roast, bottom round roast, round tip roast, and tri-tip roast. All of these cuts contain less than 7.1 grams of total fat per 3 ounce serving. Trim and cube roast into ½" pieces prior to cooking. Be sure to evenly coat roast with flour prior to browning in skillet.
All-Purpose Flour – I prefer for flavor reasons to coat beef in flour prior to cooking but, cornstarch can be substituted.
Jalapenos – I choose two medium peppers, spiciness depends on the jalapenos. Add more for extra heat. Omitting the peppers completely would change the flavor too much, so I don't recommend.
Spices – This Carne Guisada only requires ground cumin, black pepper and salt. Simple but it tastes AMAZING.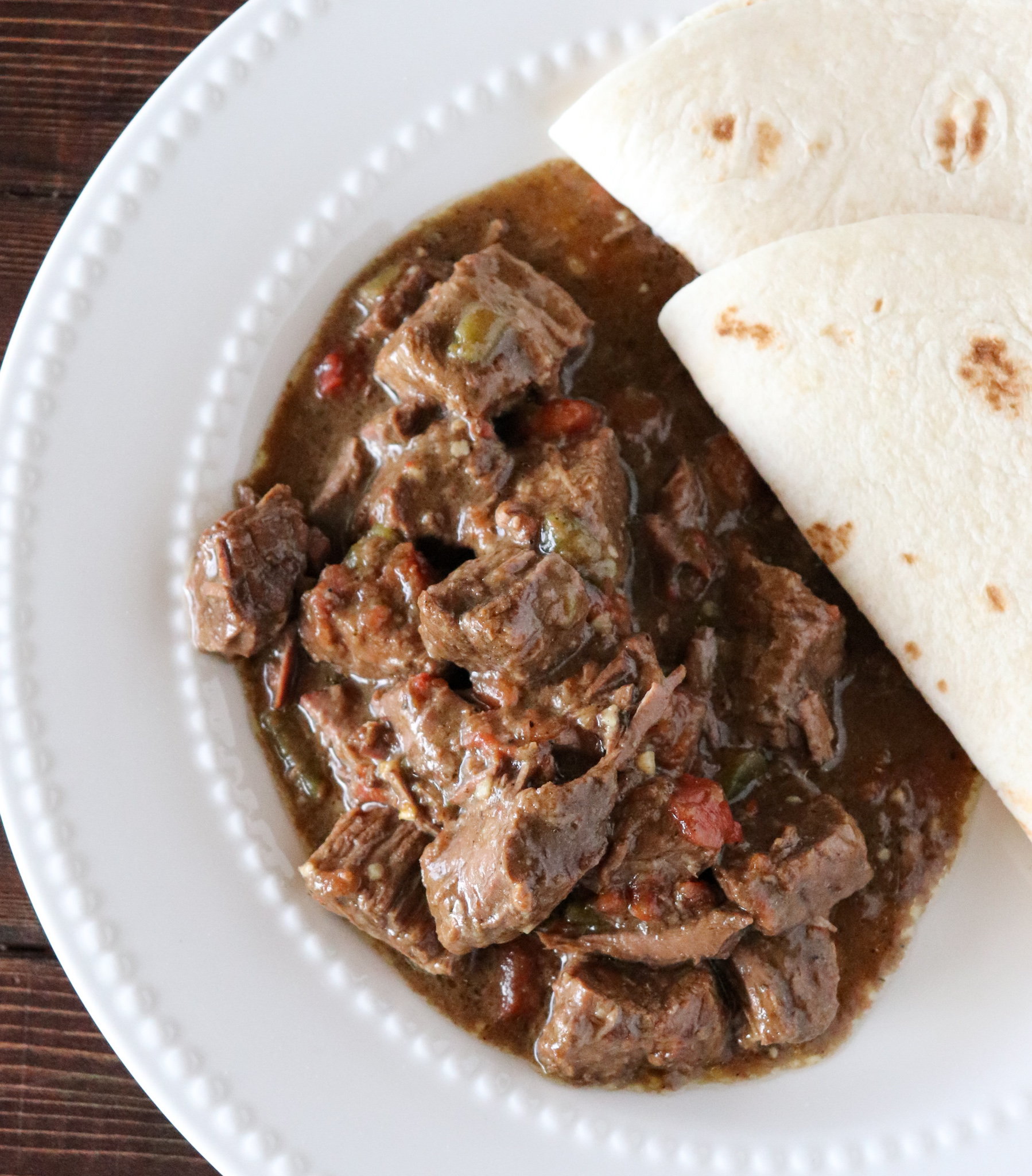 Thickening Carne Guisada Gravy in Crock-Pot
One of the differences in cooking in a slow cooker versus the stove top is that less liquid evaporates during the cooking process. Carne Guisada is famous for its' thick gravy. To ensure this turns out in the crock-pot there are a few different methods you can use to thicken the gravy.
Reduction. This is the method I prefer to use. About 30 minutes prior to serving, remove the lid from the crock-pot to allow excess liquid to evaporate while continuing to cook on low. Stir occasionally. This method allows the gravy to thicken to a nice consistency without adding anything extra. This technique of reduction concentrates the flavor resulting in a delicious rich gravy.
Make a cornstarch slurry. This is another method for thickening up the gravy if you are short on time or the gravy is too thin. Mix together 1 Tbsp. cornstarch with ⅓ cup of water. Stir into Carne Guisada and turn slow cooker to high, cook for 15 minutes or until gravy thickens.
Regardless of which method you use, be sure to check on it often so that too much liquid does not evaporate.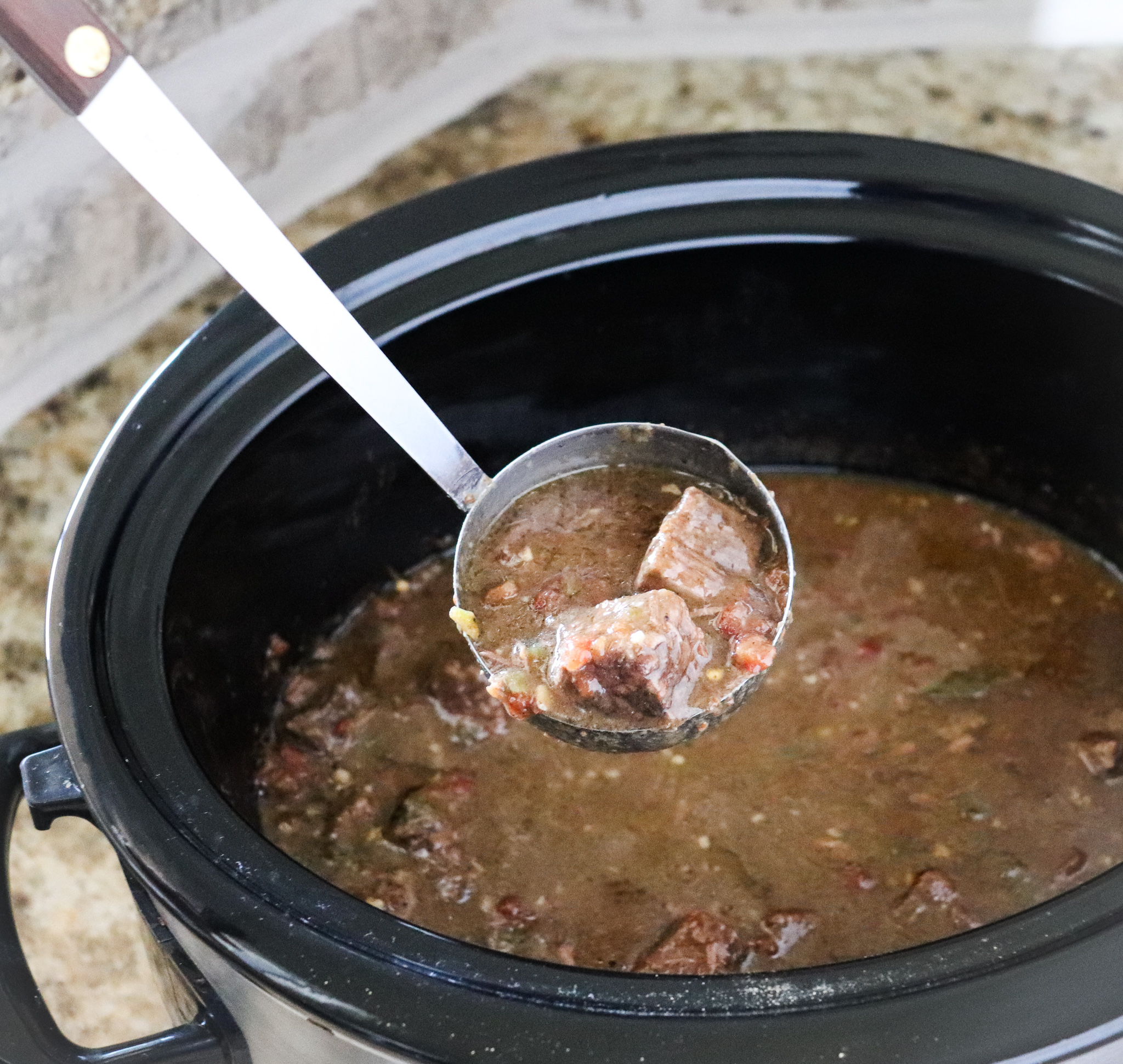 📖 Recipe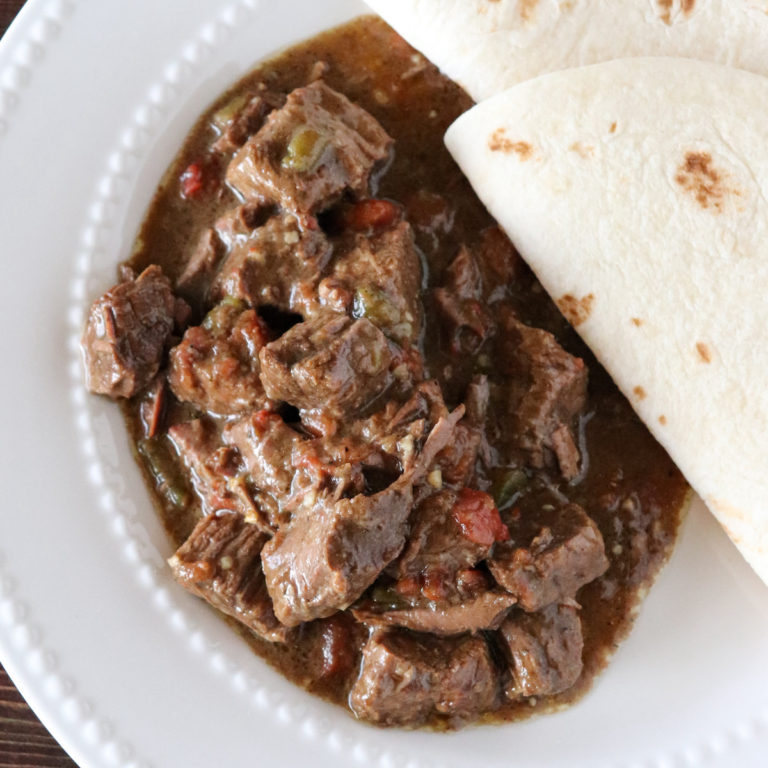 Crock-Pot Carne Guisada
Make this Tex-Mex favorite at home with this easy recipe for Crock-Pot Carne Guisada! Beef and spices slow cook resulting in a tender flavorful roast with a rich gravy.
Ingredients
2 -2.5

pound

Bottom Round Roast

trimmed and cubed

2

Tbsp.

Canola Oil

3

Tbsp.

All-Purpose Flour

1

14.5 oz

can Diced Tomatoes

1

cup

Water

1

Tbsp.

Minced Garlic

2

Jalapenos

seeded and diced

2

tsp.

Ground Cumin

2

tsp.

Black pepper

¾

tsp.

Salt
Instructions
Trim roast and cut into ½" cube pieces. Coat beef in flour. Heat oil over medium-high heat in large skillet; Brown roast on all sides, stirring frequently. Transfer beef to crockpot, discarding any excess oil.

Add remaining ingredients to slow cooker and cook on LOW for 5-6 hours.

Approximately 30 minutes before serving Carne Guisada, remove slow cooker lid to allow gravy to naturally thicken. Continue to cook on LOW, stirring occasionally.
Tried this recipe?
Mention @mytxkitchen or tag #mytxkitchen!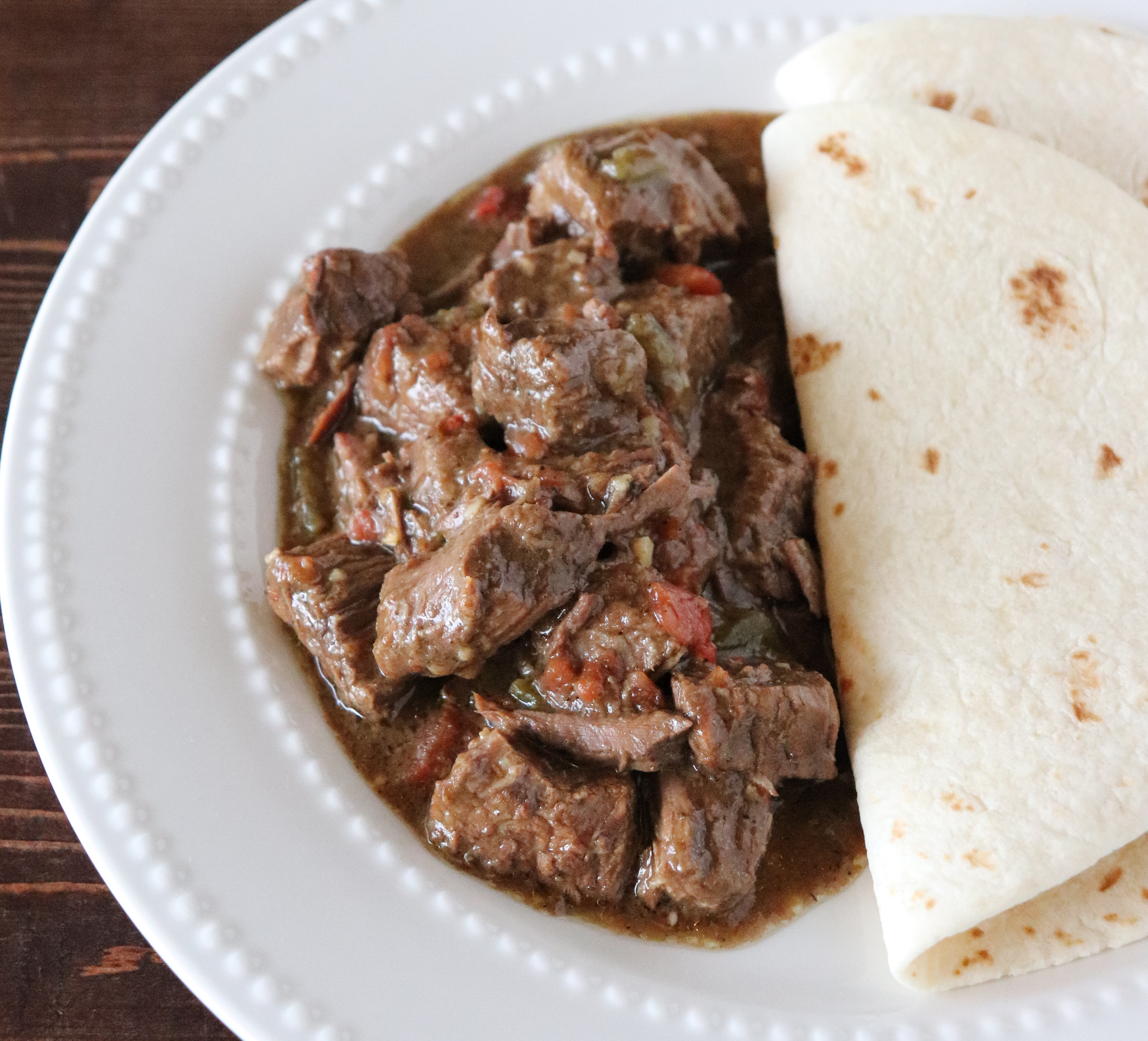 Serving and Storage
Serving suggestions for Crock-Pot Carne Guisada include fresh flour tortillas, rice, borracho beans, lettuce, avocado slices, shredded cheese and pico de gallo. 
Store leftover Carne Guisada in the refrigerator for 3-4 days. If freezing desired, allow Carne Guisada to cool then transfer to air-tight container and freeze. Best if used within 6 months.
Enjoy!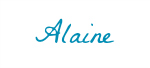 More recipes from My TX Kitchen you might like: