Easy jambalaya recipe made on the stove top with chicken thighs and sausage. This classic recipe is very customizable and easy enough for a busy weeknight dinner!
One thing I love about Texas Cooking, is the influence surrounding areas have on the cuisine. The further east you get, the more Cajun and Louisiana influence there will be in the food.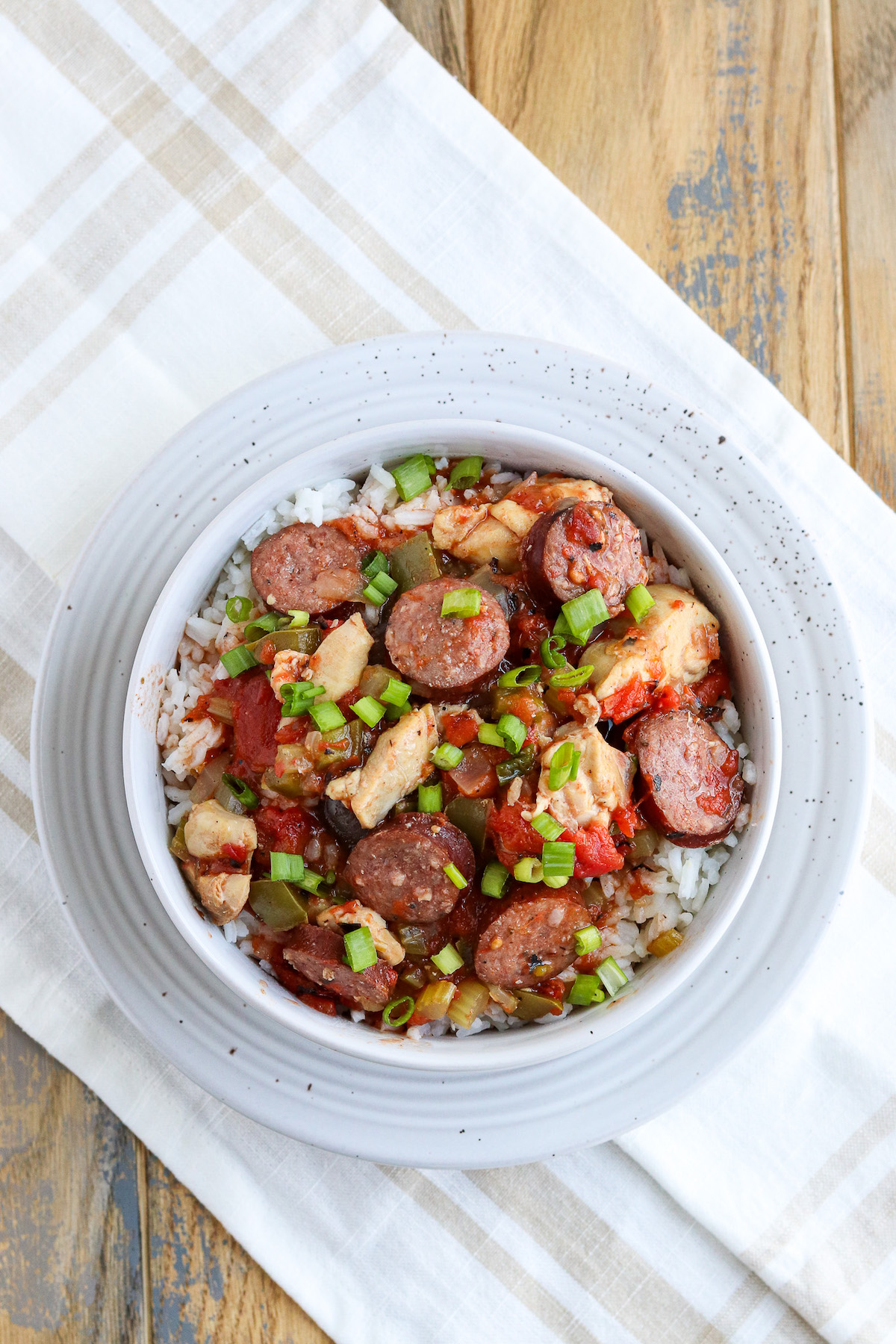 Jambalaya and red beans and rice have always been staple meals in our house. As I try to lower my grocery bill, I find myself turning to wholesome meals like this more frequently.
Jump to:
Versatile dinner recipe
The great thing about jambalaya is that it is a very versatile dish and can be made with what meats you have on hand. I like to use smoked beef sausage and chicken thighs. It is mildly spiced so that my kids will eat it. Of course, if you aren't cooking with kids in mind you can always increase the heat.
What about the rice?
There are also a few things that are different about this recipe. I don't add rice while it is cooking, instead I cook the rice separately and serve the jamabalya over a scoop of fluffy white rice.
I do this so that each person can control the amount of rice they have, this is helpful if you are serving people who have to monitor their carbohydrate intake. 
The second reason I don't add rice is because I like to freeze leftovers and I find the quality of the dish is preserved better that way.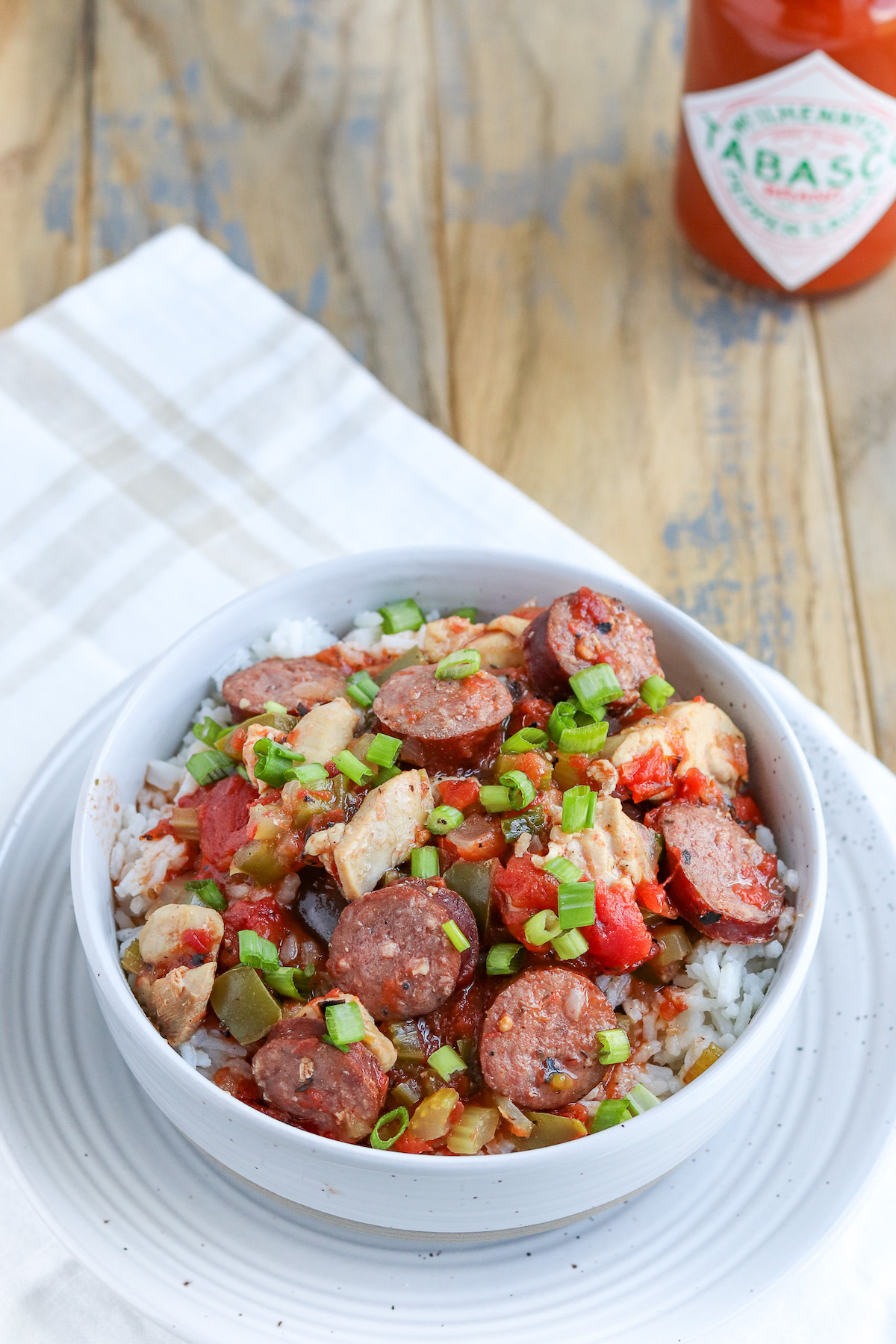 Cajun blend spices
I prefer to make a quick mix of seasonings rather than using a cajun seasoning. There are some really great cajun and creole seasoning blends out there, but there are also a lot that are just super salty.
In order for y'all to get consistent results, I find it more beneficial to share my recipe this way.
Of course, if you have a Cajun spice blend you know and love, feel free to use that in place of the spices. Just be sure to still use the granulated garlic and thyme.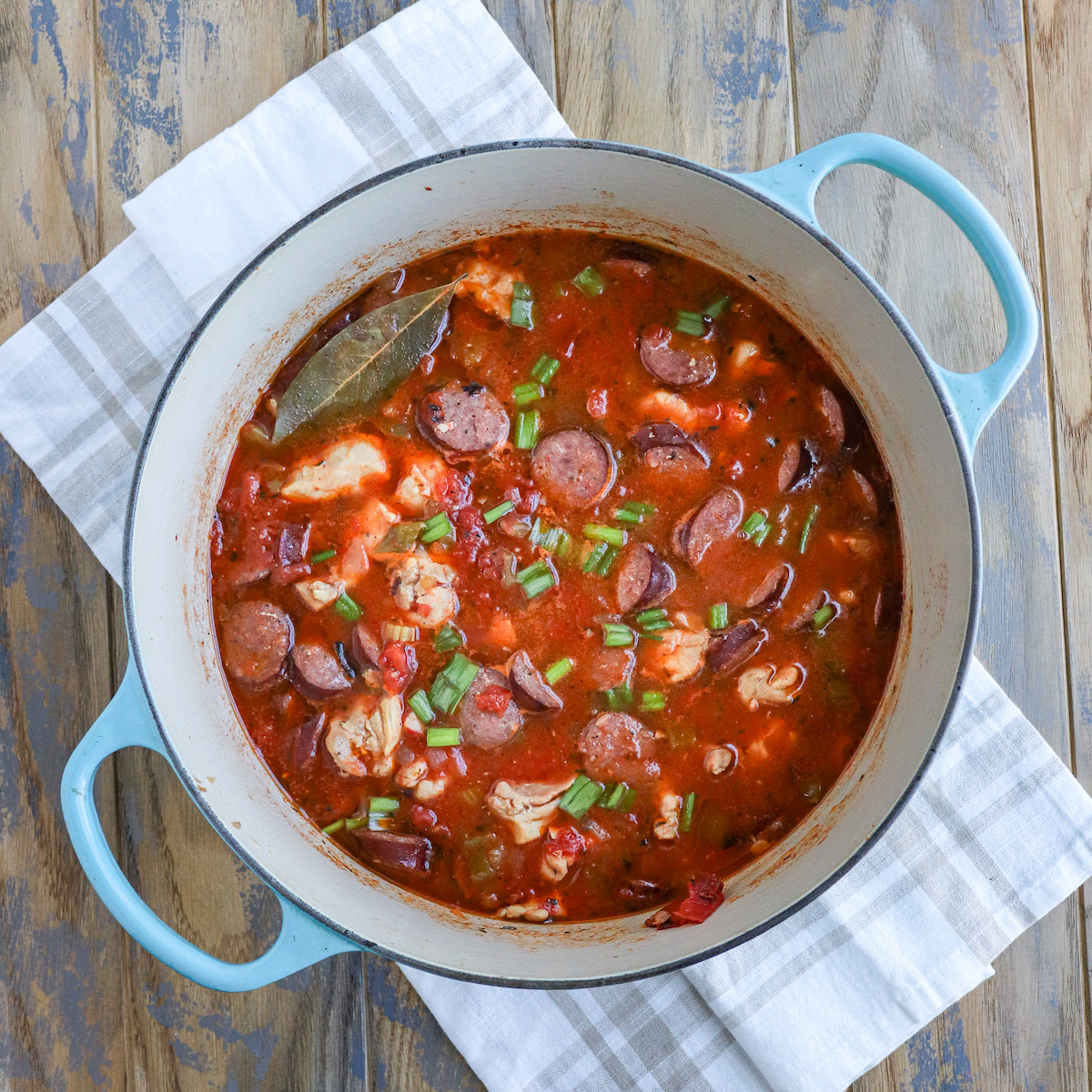 Ingredients
Simple ingredients, the holy trinity and your choice of meats.
Canola Oil – A little oil in the dutch oven to help brown the meat. You can use olive oil as well.
Sausage – I typically use beef or pork blend smoked sausage link. Some areas you will see this type of sausage called kielbasa. When I am trying to make a lower fat version, I like to use the HEB Texas Heritage Turkey Sausage.
Chicken Thighs – I like to use boneless skinless chicken thighs because they are more succulent and often cheaper. You may substitute boneless skinless chicken breasts.
Holy Trinity - One large onion, three celery ribs and a green bell pepper.

Bell Pepper – Green bell pepper is traditionally used, but red will work too. If you like more veggies in your jambalaya, increase to two bell peppers.

Spices – Minced garlic, thyme, oregano, bay leaf, garlic powder, salt, pepper, cayenne pepper and paprika.
Diced Tomatoes – I like to use 2 cans of fire-roasted diced tomatoes, including the liquid. You can also substitute regular diced or crushed tomatoes.
Chicken Broth – Two cups of chicken broth. I like to use a homemade or lower sodium broth. Better than Bouillon chicken broth mixed with water also works great.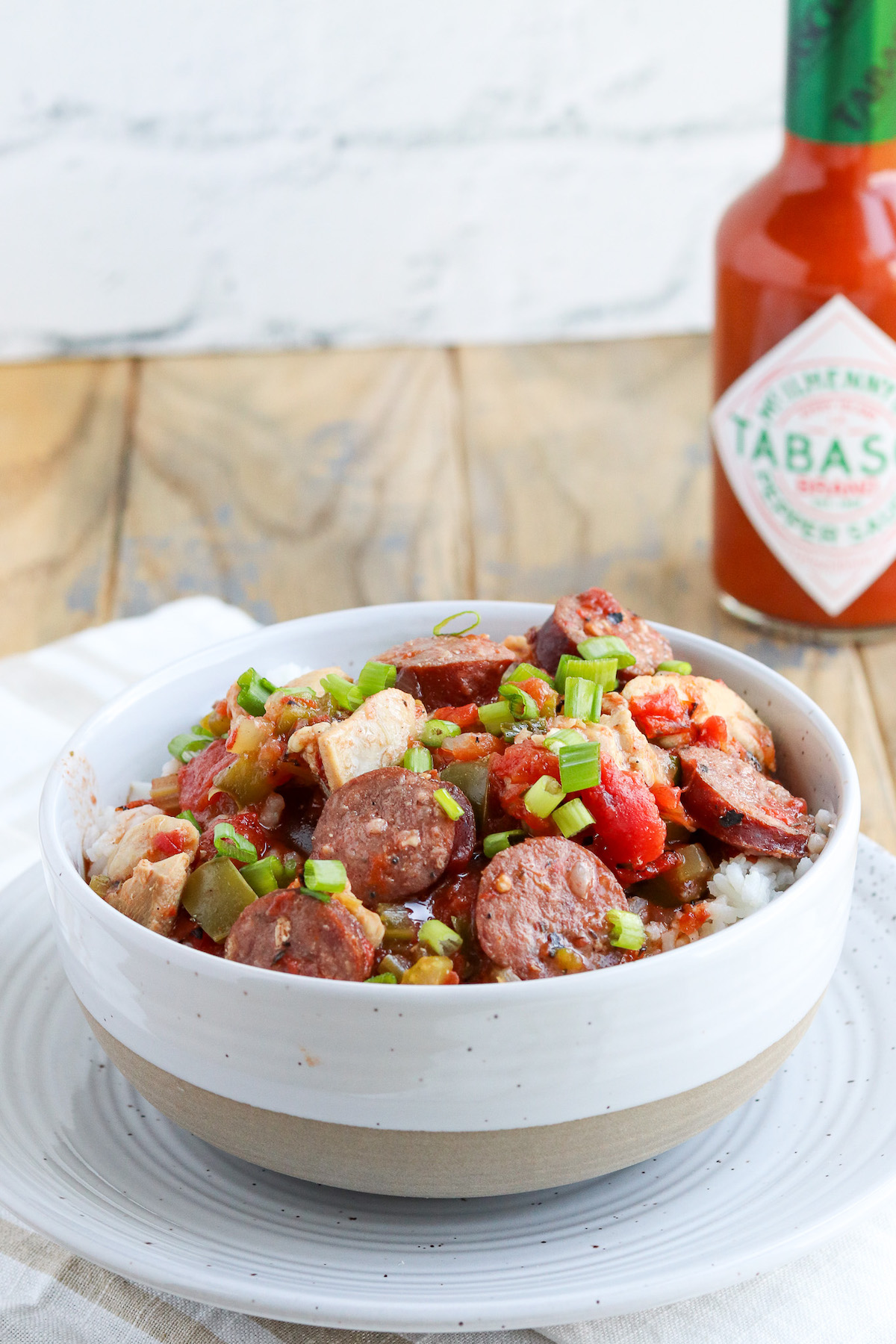 How to make in the crock pot
I make this recipe on the stovetop and also frequently in a crock pot. Here are brief instructions for how to adapt this easy recipe for the slow cooker.
Step 1: In a pan or slow cooker with sautée function, brown sausage over medium high heat. Remove and set aside. In drippings, sautee onion, bell pepper and celery until tender (5-7 minutes).
Step 2: To slow cooker, add sausage, vegetables, chicken thighs, garlic, spices, canned tomatoes, and chicken broth. Cook on LOW for 6-7 hours or HIGH for 3-4 hours. Serve over rice; garnish with tabasco hot sauce and green onions.
Variations
Use a spicy andouille sausage and/or add shrimp. Andouille sausage is typically used in jambalaya but there are even recipes out there that use chorizo sausage. Recipe can be adapted based on what's available in your region.
Jambalaya with no tomatoes: Omit tomatoes and add 1 cup of chicken stock or broth.
Spices: This Jambalaya is mildly spiced. You can sub in you favorite cajun blend for some of the spices, just be sure to still use minced garlic and thyme. Increase cayenne to increase heat.
To add rice while cooking:
Add 1 cup of uncooked white rice and an additional cup of chicken broth, bringing the total to 3 cups of broth.
Another option is to stir in fully cooked white or brown rice. This does not require any additional broth.
Healthier options
Add more veggies. I like to add fresh sliced okra when it is in season.
Lower Fat: Use smoked turkey sausage and boneless skinless chicken breasts.
Serve over brown rice.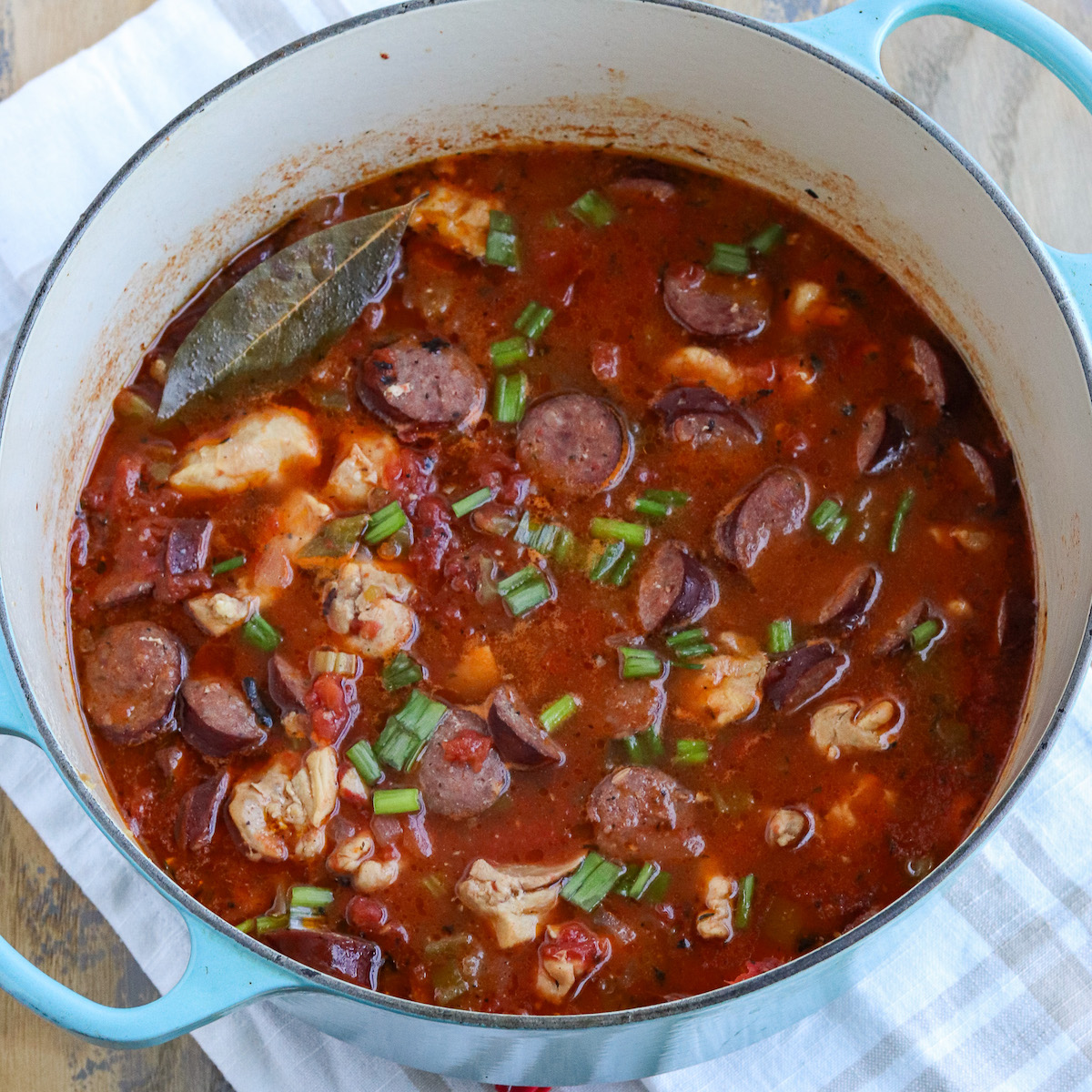 Serving and storage
Serve chicken and sausage jamabalya in a bowl over a scoop of fluffy white rice. Use brown rice for a high fiber option and cauliflower rice for a low carbohydrate option.
Garnish with green onions and serve with Tabasco hot sauce available for those who want to add more spice. Pairs well with buttermilk cornbread. 
Store leftover jambalaya in an air-tight container in the fridge. Best if eaten within 5 days. Makes great leftovers.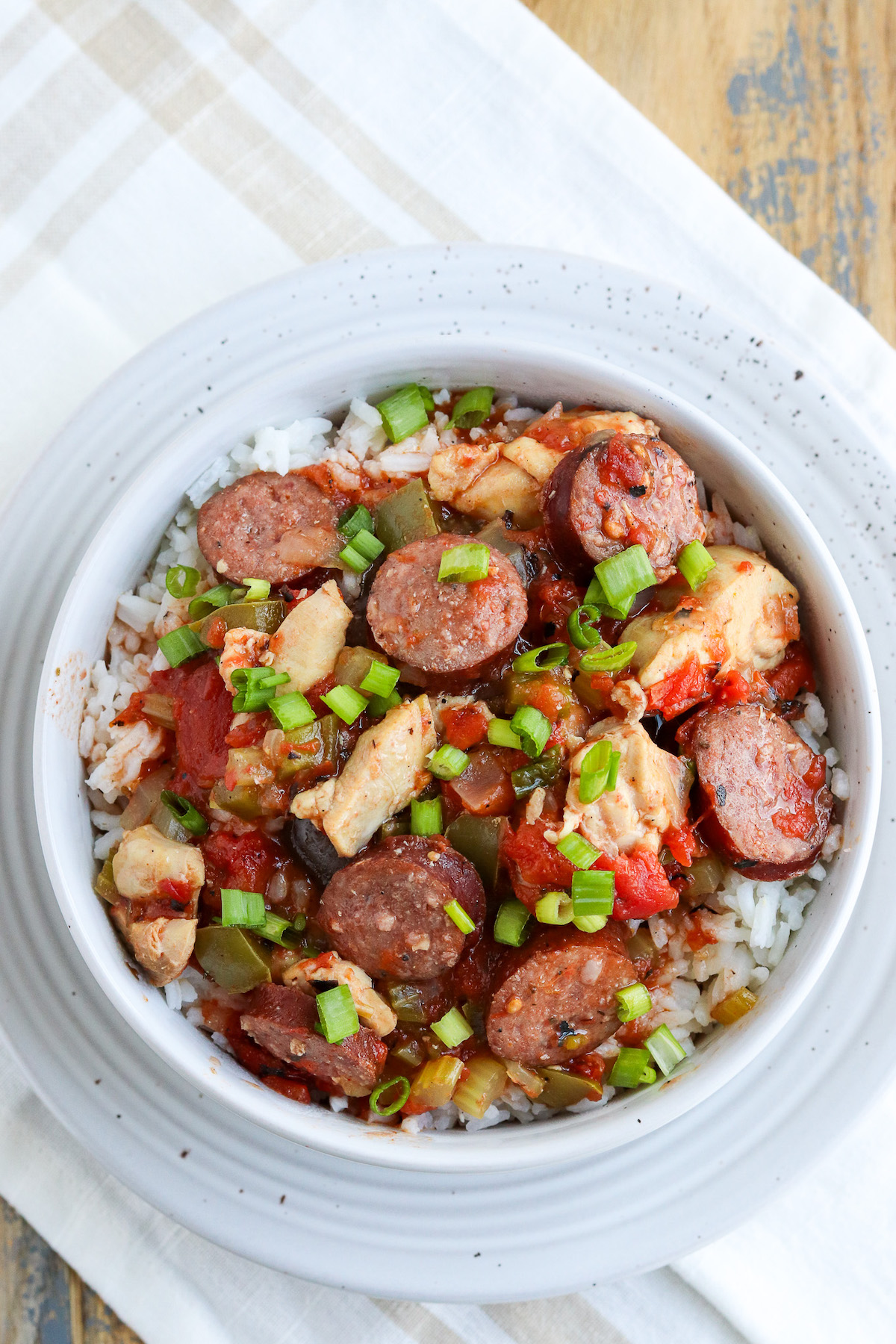 How to freeze jambalaya
To freeze, place in freezer safe containers leaving 2 inches of space at the top. Date, label and store in freezer for up to 6 months. I like to use these deli soup containers for freezer storage. 
📖 Recipe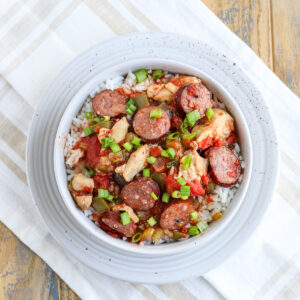 Chicken and Sausage Jambalaya
Easy jambalaya recipe made on the stove top with chicken thighs and sausage. This classic recipe is very customizable and easy enough for a busy weeknight dinner!
Ingredients
2

tsp.

canola oil

12

oz.

sausage

sliced into ½" rounds

2

lbs.

boneless skinless chicken thighs

trimmed and cubed

1

cup

onion

diced

1

cup

green bell pepper

diced

1

cup

celery

diced

1

tsp.

minced garlic

½

tsp.

thyme

½

tsp.

salt

½

tsp.

paprika

¼

tsp.

dried oregano

¼

tsp.

cayenne pepper

¼

tsp.

black pepper

1

bay leaf

2

– 14 oz. cans fire-roasted diced tomatoes

2

cups

chicken broth
Instructions
Heat oil over medium heat in dutch oven. Brown sausage and chicken, working in batches if needed. Remove meat and place on paper-towel lined plate.

Add onion, bell pepper and celery to dutch oven. Cook until tender and onions are translucent. Stir in minced garlic and spices during last minute of cooking.

Add canned tomatoes, chicken broth, chicken and sausage to dutch-oven. Bring to a boil, reduce heat to low and simmer for a minimum of 30 minutes. Stir occasionally.
Notes
If there is excess fat after cooking sausage, you may discard all but 2 tablespoon of drippings. Skim fat off top after cooking if desired.
Serve jambalaya over cooked rice. Garnish with green onions and tabasco sauce.
In place of dry spices, you may use 1 Tbsp. of cajun seasoning.
Recipe can be made in the slow cooker, see post for full instructions. 
Tried this recipe?
Mention @mytxkitchen or tag #mytxkitchen!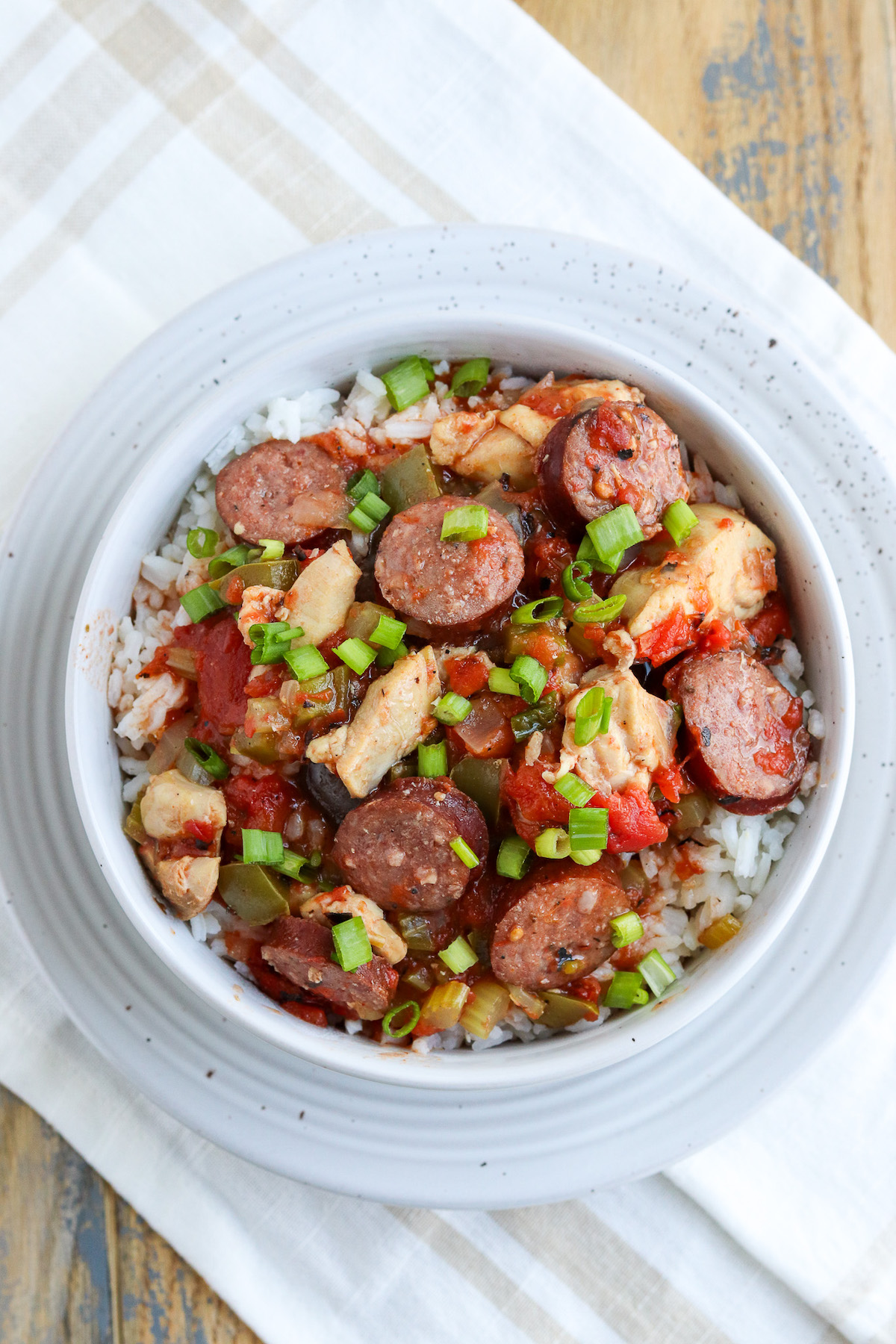 This classic jambalaya is a perfect one-pot meal full of cajun flavors. While many enjoy Cajun food once a year around Mardi Gras I love this entree for Fall. I hope you enjoy this family favorite recipe!
Alaine