An easy recipe for fresh pico de gallo with roma tomatoes, onion, cilantro, jalapenos and an avocado. Delicious and refreshing with chips or as a topping for your favorite Mexican food dish!
At salsa bars, pico de gallo has always been my favorite. The raw freshness of the tomatoes and peppers with a hint of lime juice add such a refreshing taste to everything from tacos, enchiladas and even scrambled eggs.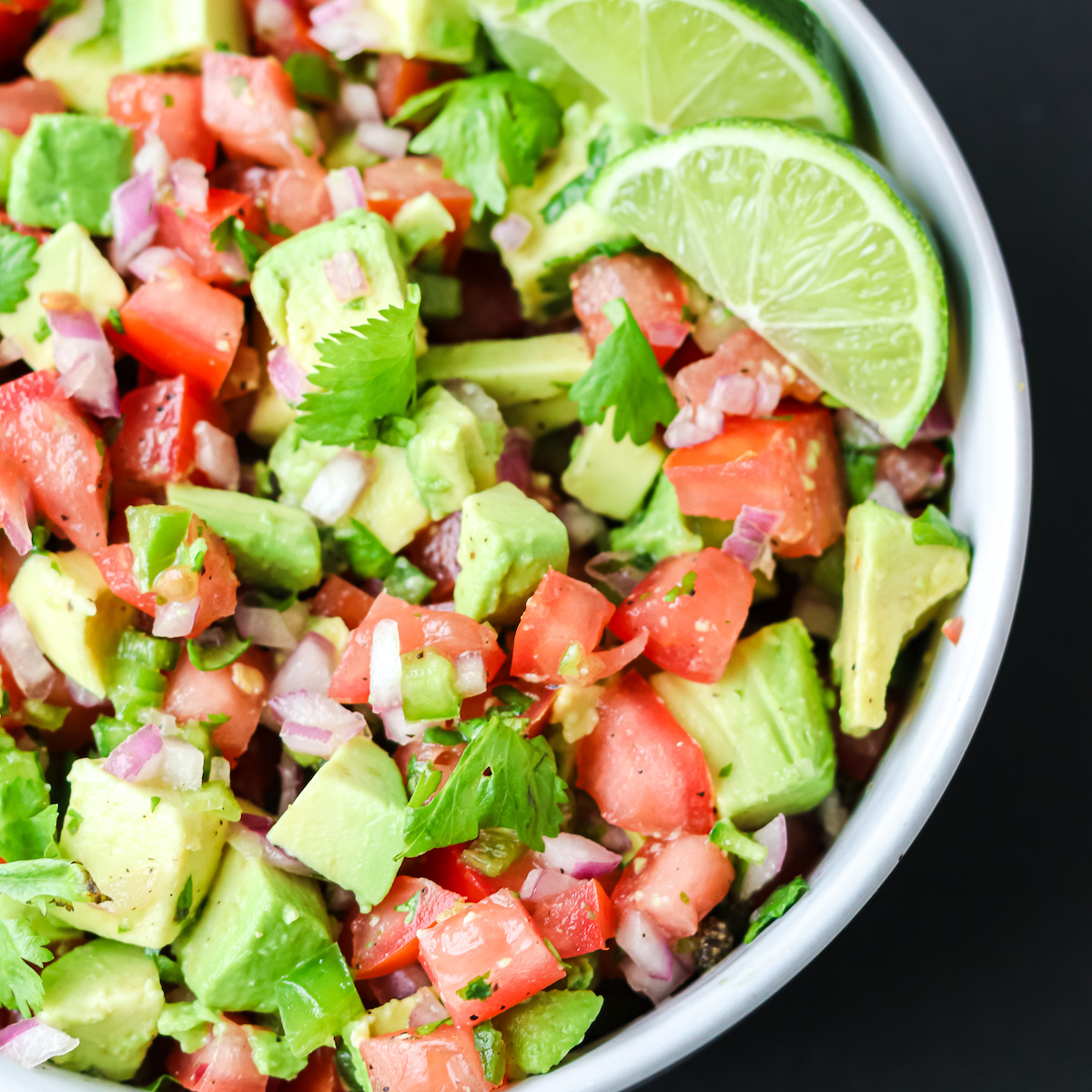 With the price of avocados, pico de gallo with avocado can also be an alternative to guacamole. It is delicious with tortillas chips or as a topping to your favorite Mexican dish. I like to top my Green Chile Chicken Enchiladas with pico de gallo.
Jump to:
Ingredients
Tomatoes – I use Roma Tomatoes and I like to seed them although I don't think it is absolutely necessary
Onion – I like to use a red onion because I like the color variation in the pico de gallo. You can also use a white onion, which is what you will most commonly find in pico de gallo at restaurants.
Cilantro – I prefer to use only the leaves. Can easily be omitted for those who don't like cilantro.
Jalapeño Peppers – The recipe calls for ½ cup of finely chopped fresh jalapeños, which is roughly two large peppers. Adjust the quanity of peppers based on your personal heat preference.
Lime Juice – Freshly squeezed for the best flavor. Lemon juice can be substituted.
Avocado – The recipe calls for either one large or two small avocados.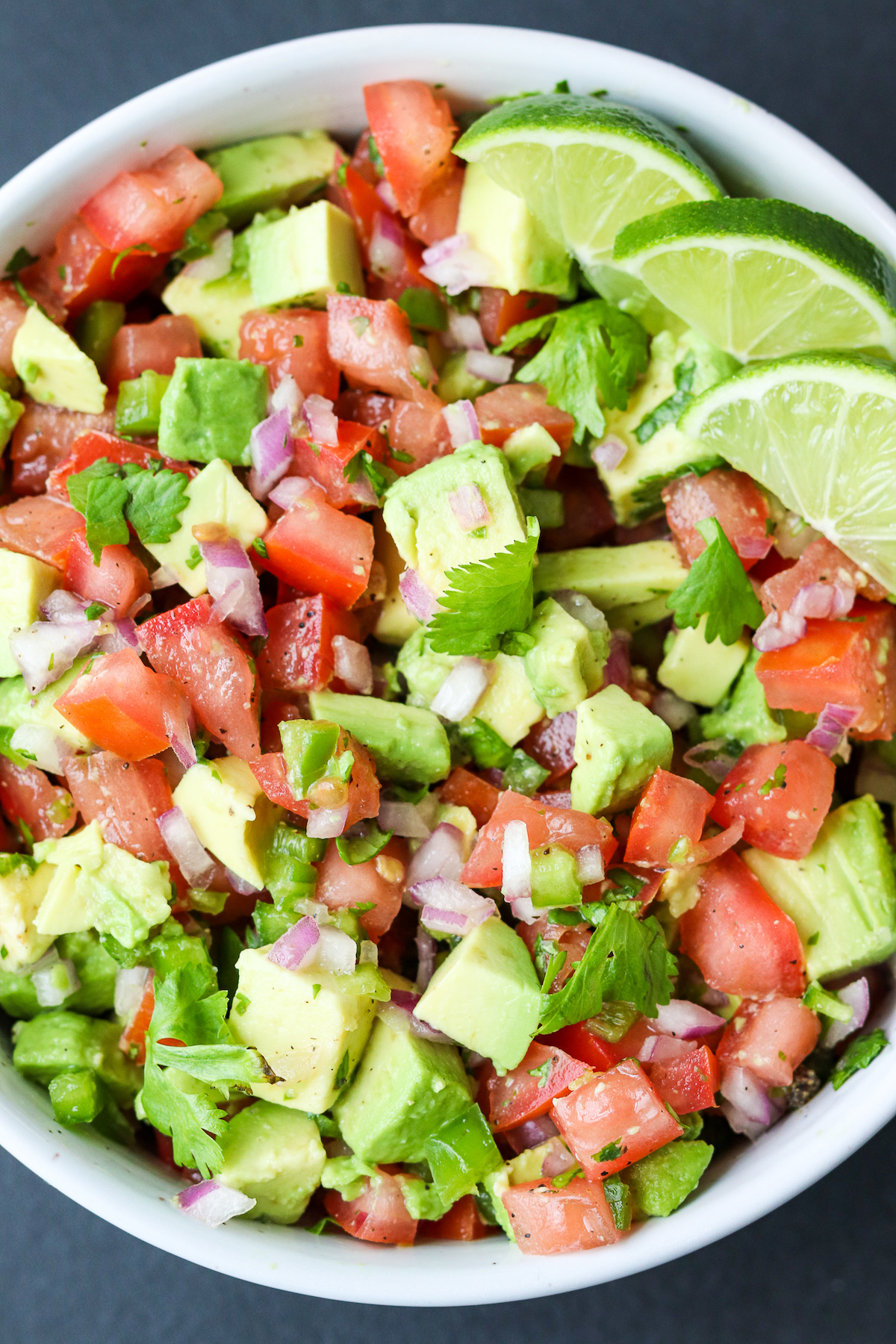 How to make pico de gallo
Chop and prepare all the vegetables. Combine in a medium bowl with salt, pepper and lime juice. Carefully fold in the avocado, ensuring that you do not smash it, but rather that it stays in cubes.
Serving
Serve pico de gallo with avocado like a salsa with tortillas chips, on salads, or as a topping for your favorite Tex-Mex dishes. I like to top my eggs with fresh pico if there is ever any left.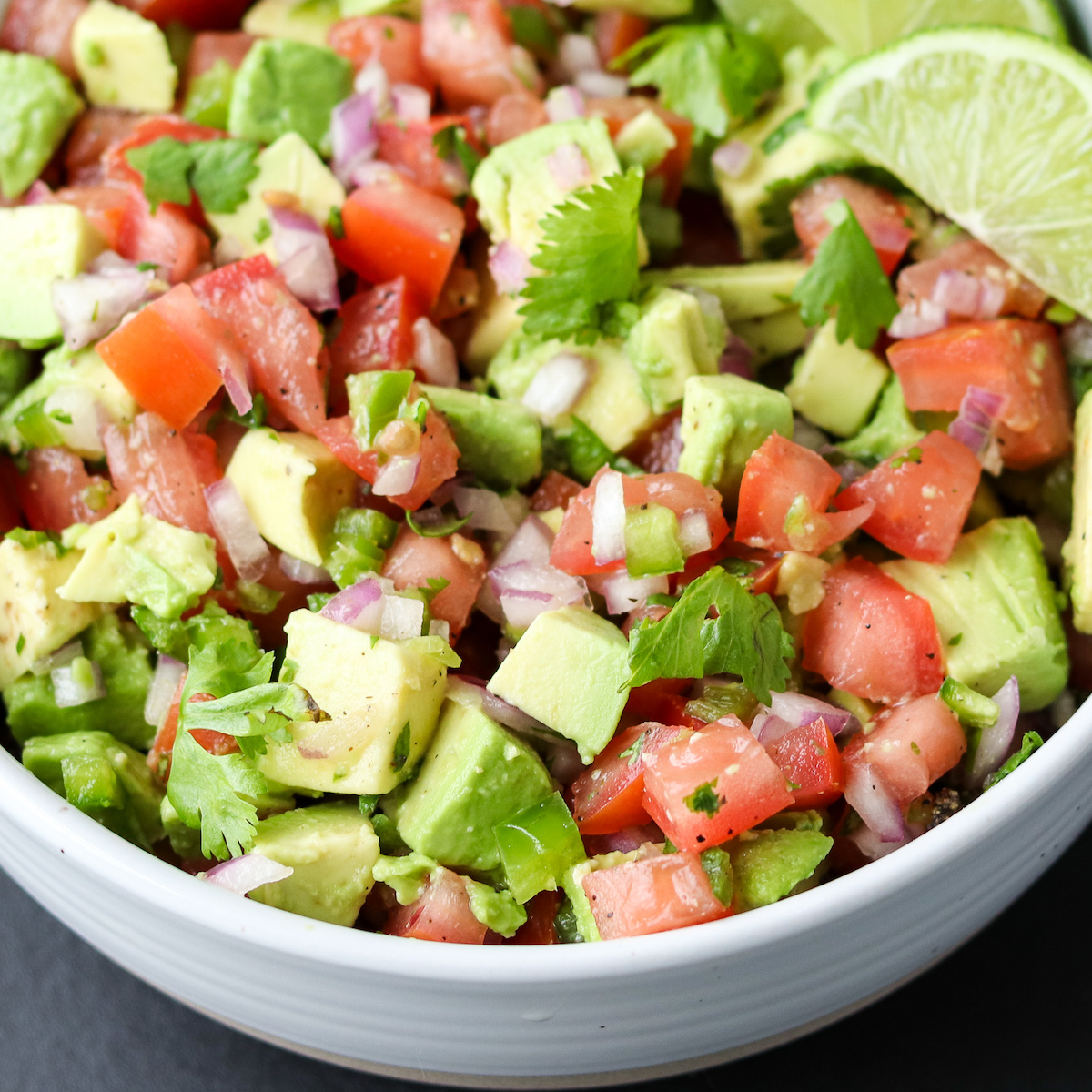 FAQ
How long does Pico de gallo last?
Not long in my house 😉
Store pico de gallo in the fridge for up to three days.
Due to the nature of avocados, it is best to enjoy pico de gallo with avocado the day it is prepared.
Can I make pico de gallo ahead of time?
To prepare in advance, combine all ingredients except the avocado and allow to refrigerate. Fold in the avocado just before serving.
Is Pico de gallo spicy?
I use two large fresh jalapeno peppers for my pico. It is not spicy to me, but heat is subjective. If you like less heat, start with one jalapeno. For more heat, use jalapeno and a serrano pepper.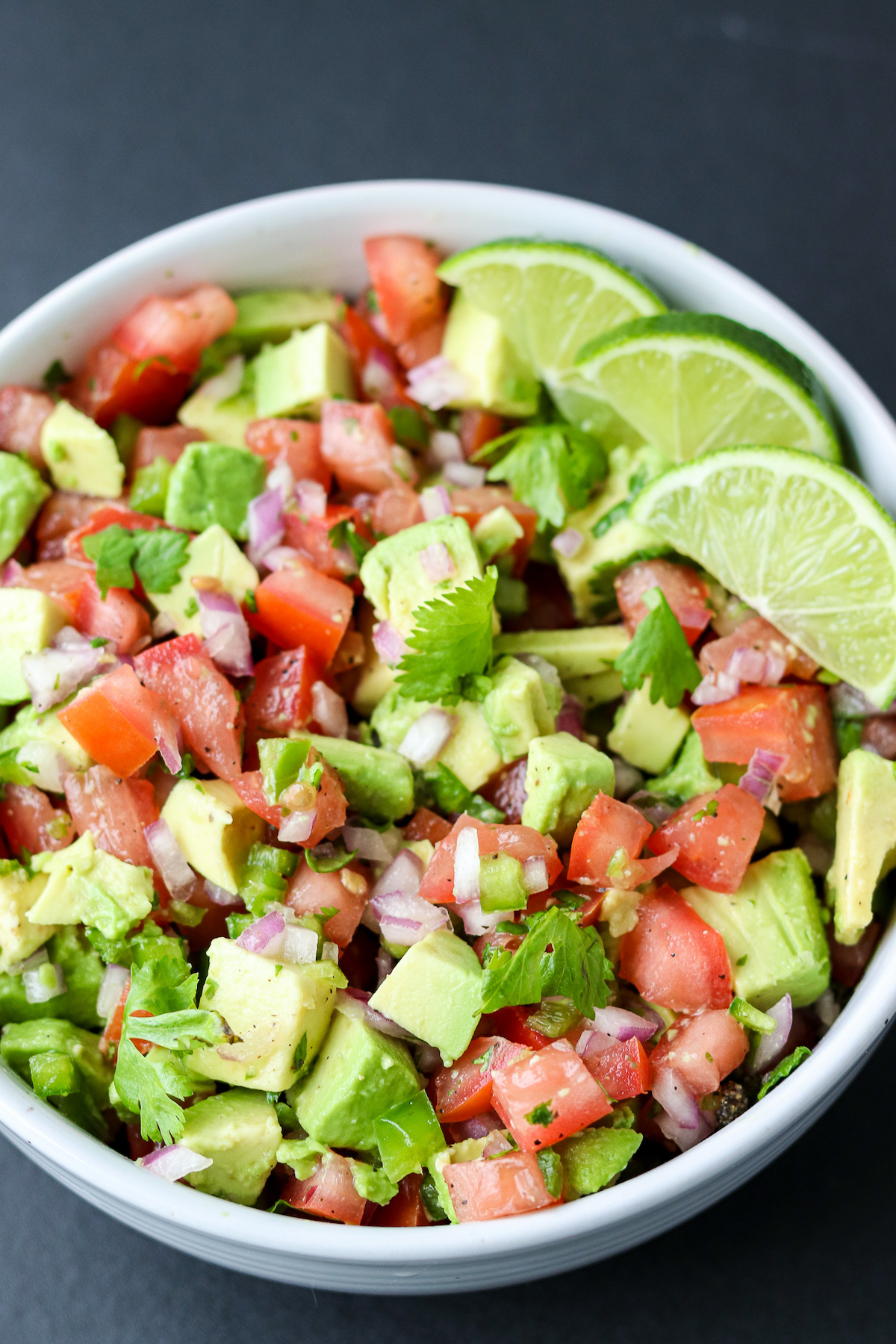 Is pico de gallo healthy?
Pico de gallo with avocado is a great way to increase your vegetable and therefore fiber intake. Pico de gallo is nautrally low calorie, adding avocados increases the calories due to the heart healthy fats they contain.
Avocados are naturally high in potassium, even higher than bananas! This is a great way to incorporate more potassium into your diet as most Americans do not consume enough.
If you are watching your sodium intake, you can easily omit the salt. Garlic powder is a good addition if you leave out the salt.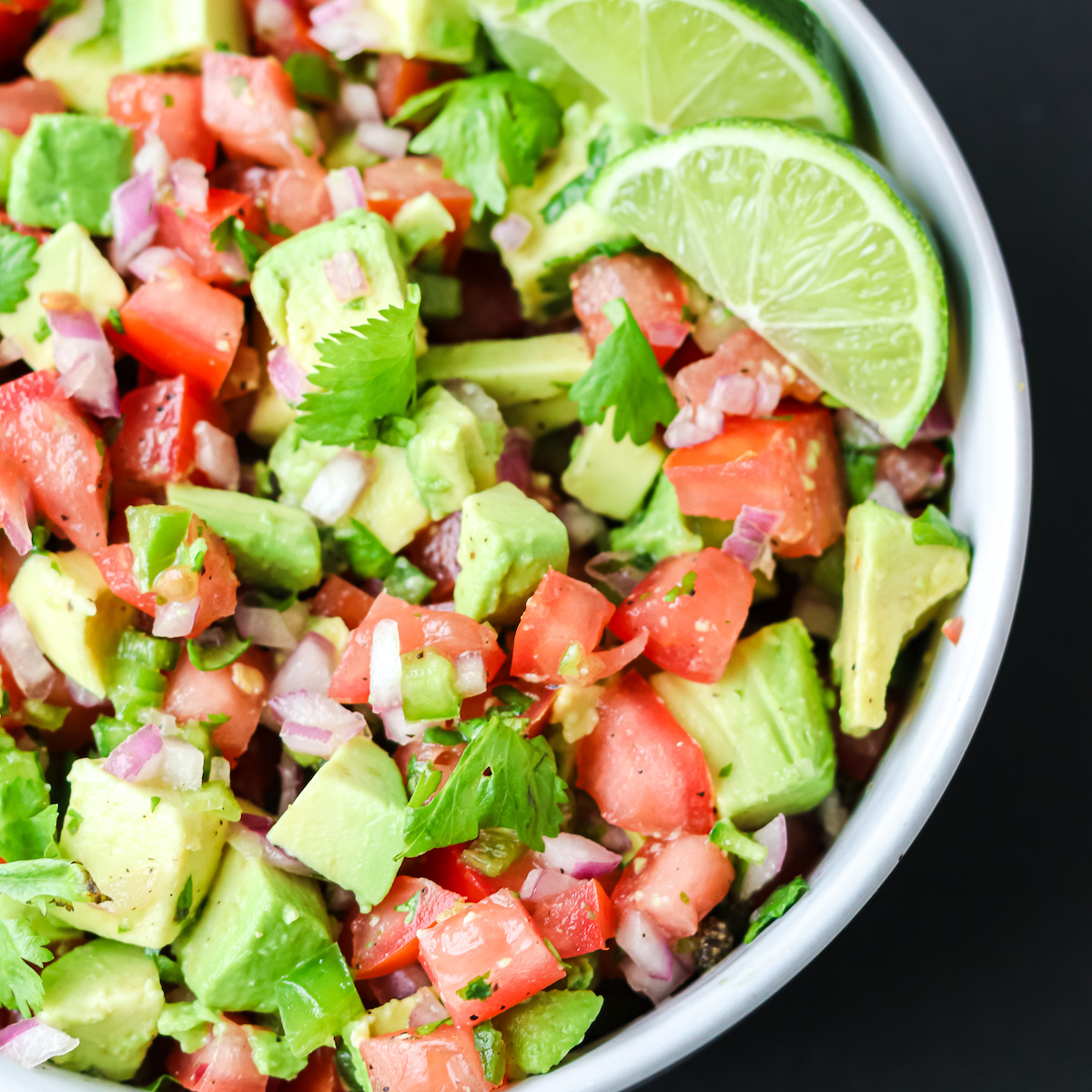 📖 Recipe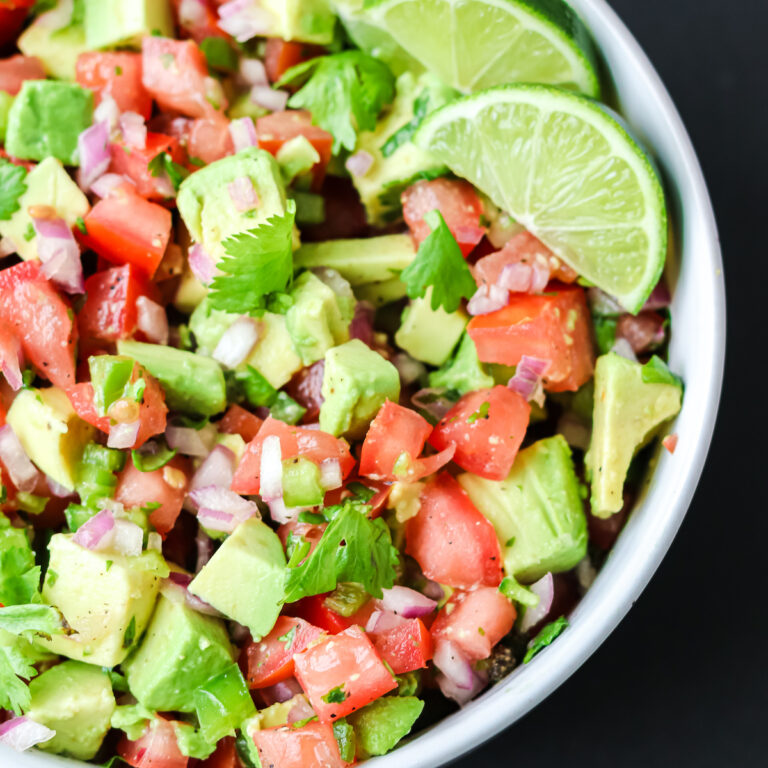 Pico de Gallo with Avocado
An easy recipe for pico de gallo with tomatoes, red onion, jalapeños, cilantro, lime juice plus avocado!
Ingredients
1 ½

c.

tomato

seeded and chopped

½

c.

red or white onion

chopped

½

c.

fresh jalapeño peppers

seeded and finely chopped

¼

c.

cilantro leaves

chopped

½

tsp.

salt

¼

tsp.

black pepper

2

Tbsp.

lime juice

1

large Haas Avocado

cubed
Instructions
Combine first seven ingredients in medium bowl and mix.
Tried this recipe?
Mention @mytxkitchen or tag #mytxkitchen!