Oranges, pineapple, pecans, and coconut in a yogurt based creamy dressing. This Lightened Ambrosia Salad is a refreshing holiday side dish.
Ambrosia salad is one of my absolute favorite holiday dishes. It brings back fond memories of holidays at my Paw-Paw's. Just barely able to see over the middle island, I distinctly remember this was the first holiday dish I ever got to help with.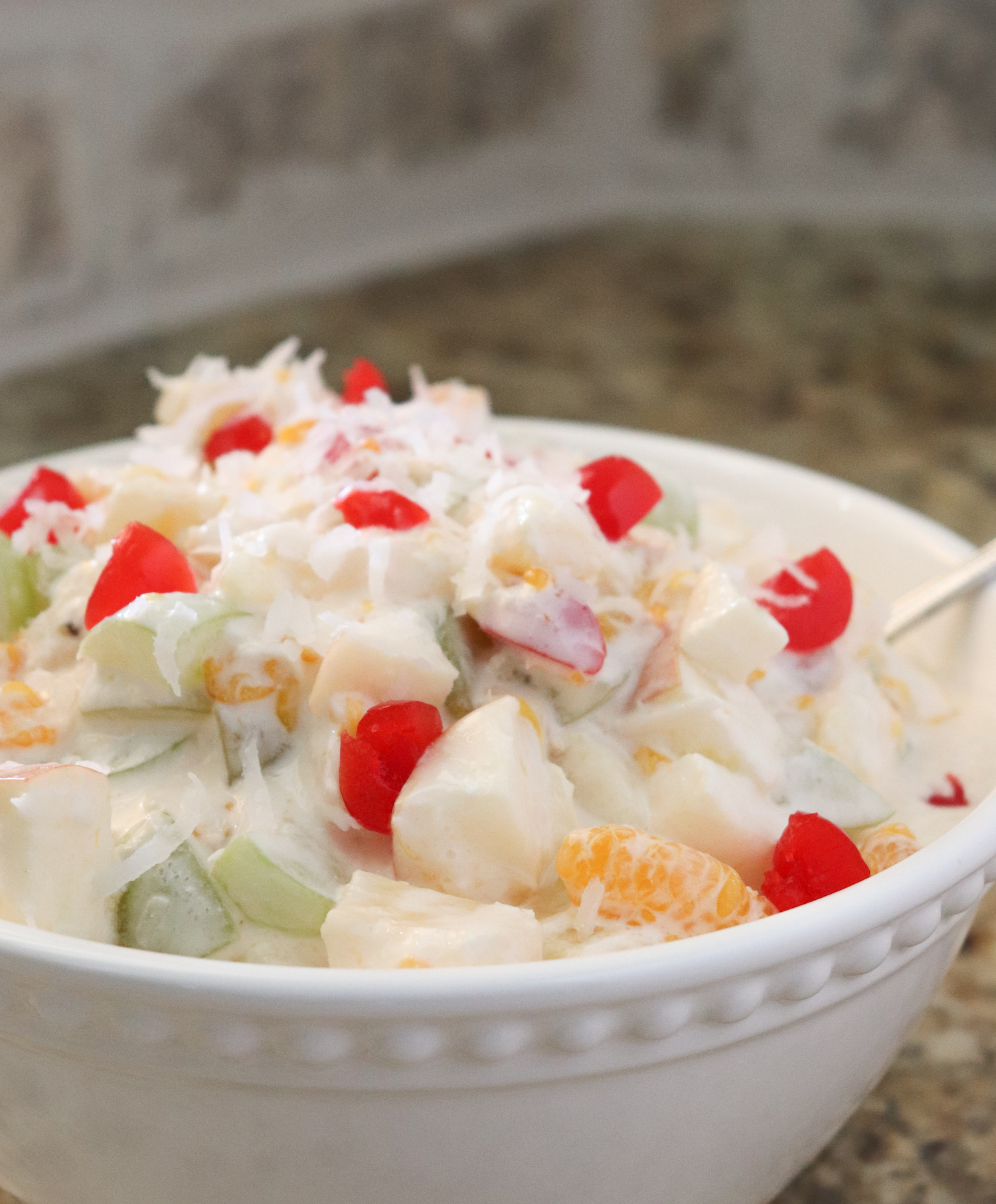 Decadent Fruit Salad
Ambrosia Salad has a very vintage-y feel to me now, like the kind of dish you want to break out all that crystal from your wedding to serve it in. Maybe it's the maraschino cherries, who knows? My own 4 year old asked what "those red things were" and that's reason enough for me to think we should keep some vintage recipes around during the holidays, even if we do change them up a little bit.
The delightful smell of this salad is one of my favorite things about it – the sweet candied cherries, tropical fruit and the coconut – so yummy. That scent should be bottled up as a perfume, body wash or at least a bath bomb.
Classic Ambrosia Salad
There are many variations of Ambrosia Salad, but they all typically call for oranges, coconut, and heavy whipping cream. The more modern recipes often call for mini-marshmallows.
The family recipe that inspired this post was a mixture of fruit tossed with a dressing consisting of heavy whipping cream and homemade mayonnaise. Very decadent and rich for a side salad.
Side Dish or Dessert?
We always served Ambrosia with the main meal. It's refreshing to take a bite of this between turkey, dressing and mashed potatoes. But this dish can hold its own on the dessert table too. Everyone always loves a good fruit salad!
Like many of my recipes on My Texas Kitchen, this falls into the quick and easy category. If you need to find to find an easy no-fail recipe for your Thanksgiving or Christmas meal this is a great start.
Recipe Notes
Apple – I like to choose a nice sweet pink variety of apple such as Honeycrisp, Gala or Pink Lady.
Grapes – If there are going to be young children at your holiday meal, consider cutting the grapes into smaller pieces.
Pecans and coconut can be toasted before mixing in for added depth of flavor.
Easy to omit the pecans for a tree-nut allergy.
Tips on Making the Coconut Based Yogurt Dressing
Greek Yogurt - I have used Siggi's Icelandic Skyr Coconut and Chobani Coconut flavored yogurt in this recipe with good results. Vanilla yogurt can be substituted.
Start by adding one container of yogurt into the fruit. The perfect ratio is probably slightly less than two full containers. Various Greek yogurts have different consistencies.
You can use either a prepared topping like Cool-Whip or mix in real heavy whipping cream. I think it is a personal preference, I like to add a little whipping cream.
What makes this version "lighter"?
Swapping yogurt for some of the mayonnaise and heavy cream reduces total calories and fat.
Omitting mini-marshmallows and choosing unsweetened coconut flakes reduces added sugars.
Choosing canned pineapple and mandarin oranges in juices rather than heavy syrup.
If you are trying to keep it lower calorie you can use light Cool Whip.
If you love Ambrosia Salad I highly encourage you to try this "lightened" holiday recipe, you won't notice a difference, I promise!
📖 Recipe
Lightened Ambrosia Salad
Oranges, pineapple, pecans, and coconut in a yogurt based creamy dressing. This Lightened Ambrosia Salad is a refreshing holiday side dish.
Ingredients
1

medium Apple

diced

1

cup

Green Seedless Grapes

halved

1

20 oz. can

Pineapple Tidbits in juice

drained

1

15 oz. can

Mandarin Orange Segments

drained

¼

cup

Maraschino Cherries

drained and quartered

⅓

cup

Pecan pieces

¼

cup

Shredded Coconut

2

5.3 oz. containers

Coconut flavored Greek Yogurt

½

cup

prepared Whipped Cream or Whipped Topping
Instructions
In large bowl combine apple through coconut. Gently toss until mixed.

Stir in yogurt until fruit mixture is well coated. Start by adding one container at a time to fruit mixture to achieve desired consistency.

Gently fold in whipped cream or whipped topping.

Refrigerate for at least 1 hour before serving.
Tried this recipe?
Mention @mytxkitchen or tag #mytxkitchen!
More Winter Holiday Recipes
Wishing y'all a happy holiday season!
~Alaine
Lightened Ambrosia Salad was originally published in November 2015. Updated in November 2020 with additional photos and text.