A rich fudgy, chocolate pie complimented with subtle heat from Ancho Chiles. Inspired by Z'Tejas Ancho Chile Fudge Pie is what your holiday dessert table needs!
Growing up, we had to go in to Austin for any major shopping and doctor's appointments. My mom would always take us out to eat somewhere fun like picking out a treat at Central Market or what became my personal favorite, Z'Tejas.
I liked to go there for three things – cornbread, tortilla soup, and their ancho chile pie.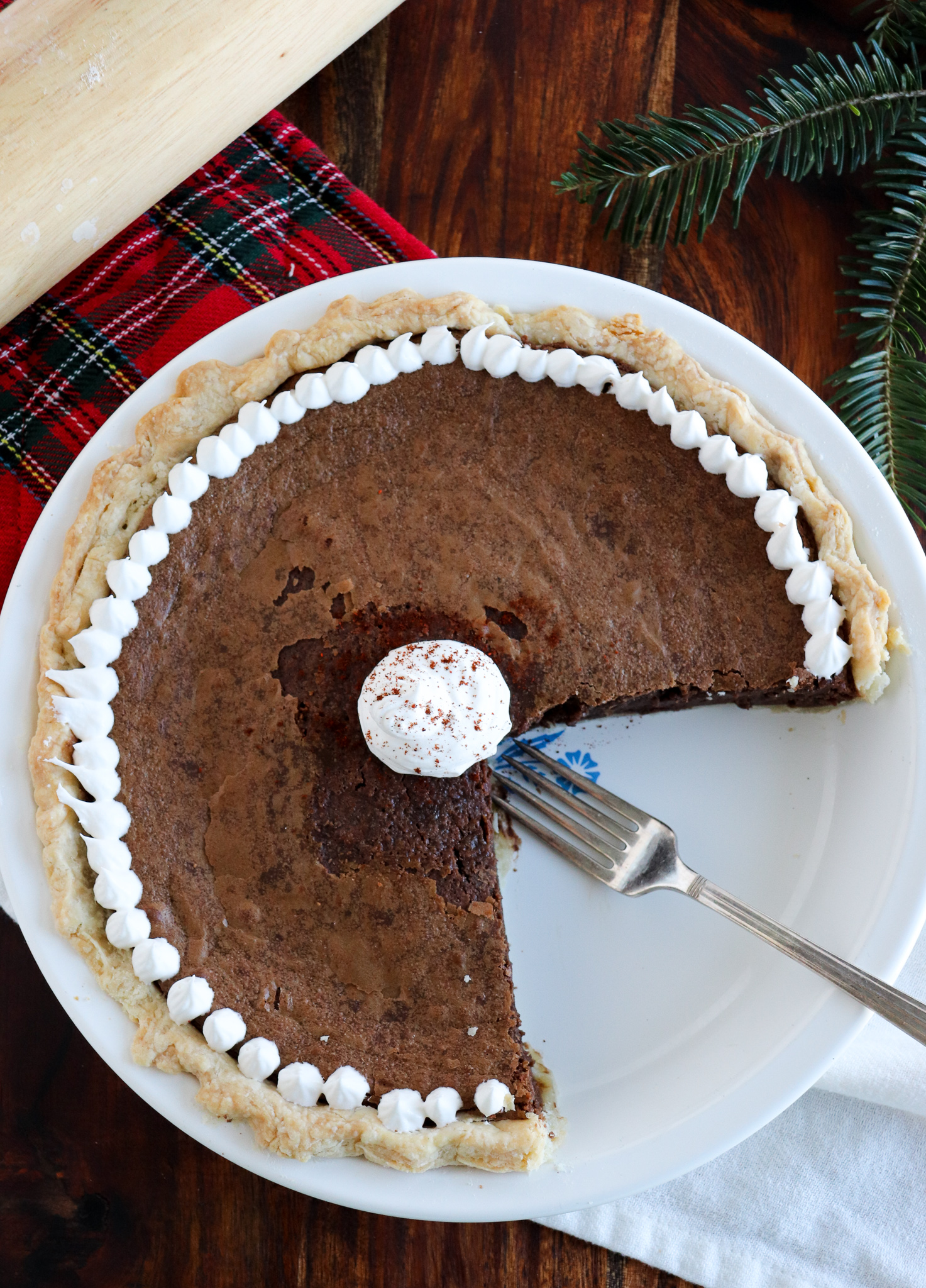 I moved far away, but started making a copycat version of their pie every year at Christmas and Thanksgiving. It replaced the Chocolate Pecan Pie on the dessert table. Years later, whenever I serve this dish, it still gets rave reviews.
Decadent, rich, chocolatey but something YOU can easily make at home and WOW your hostess or guests.
What are ancho chiles?
Ancho Chiles are dried Poblano Peppers. You can typically find them in your produce section but they are also available on Amazon here. The peppers aren't exactly spicy, the Ancho Chile just gives the chocolate a little extra flavor dimension.
The heat is subtle and you don't taste it until after the sweetness and chocolate. If this were a wine, one might describe it as having a subtle ancho chile finish or aftertaste.
For this recipe be sure to use pureed ancho chilies and not the dry ground spice. I included some tips on how to make the puree below.
Rehydrating Dried Peppers
By now, you've probably figured out the one special ingredient in this pie is pureed ancho chiles. This first step in this recipe is to rehydrate the dried ancho chiles.
To do this, boil some water, place chiles in a small bowl or liquid measuring cup and cover them with hot water. Place plastic wrap over the top to trap the steam. Allow peppers to sit for 15 minutes or until peppers are soft.
Remove the peppers from the water, set water aside. Cut off the stem and scrape the seeds out.
Making Ancho Chile Puree
Now that you have rehydrated your ancho chile peppers, place peppers and about 1 Tablespoon of water that chiles were soaking in in a blender. Blend until the consistency of pureed baby food is achieved.
Add additional water if needed, but be cautious to not add too much water to dilute the puree. The pie recipe only calls for 2 teaspoons of puree, so we don't want it to be too watery.
Notes on Making Ancho Chocolate Pie Filling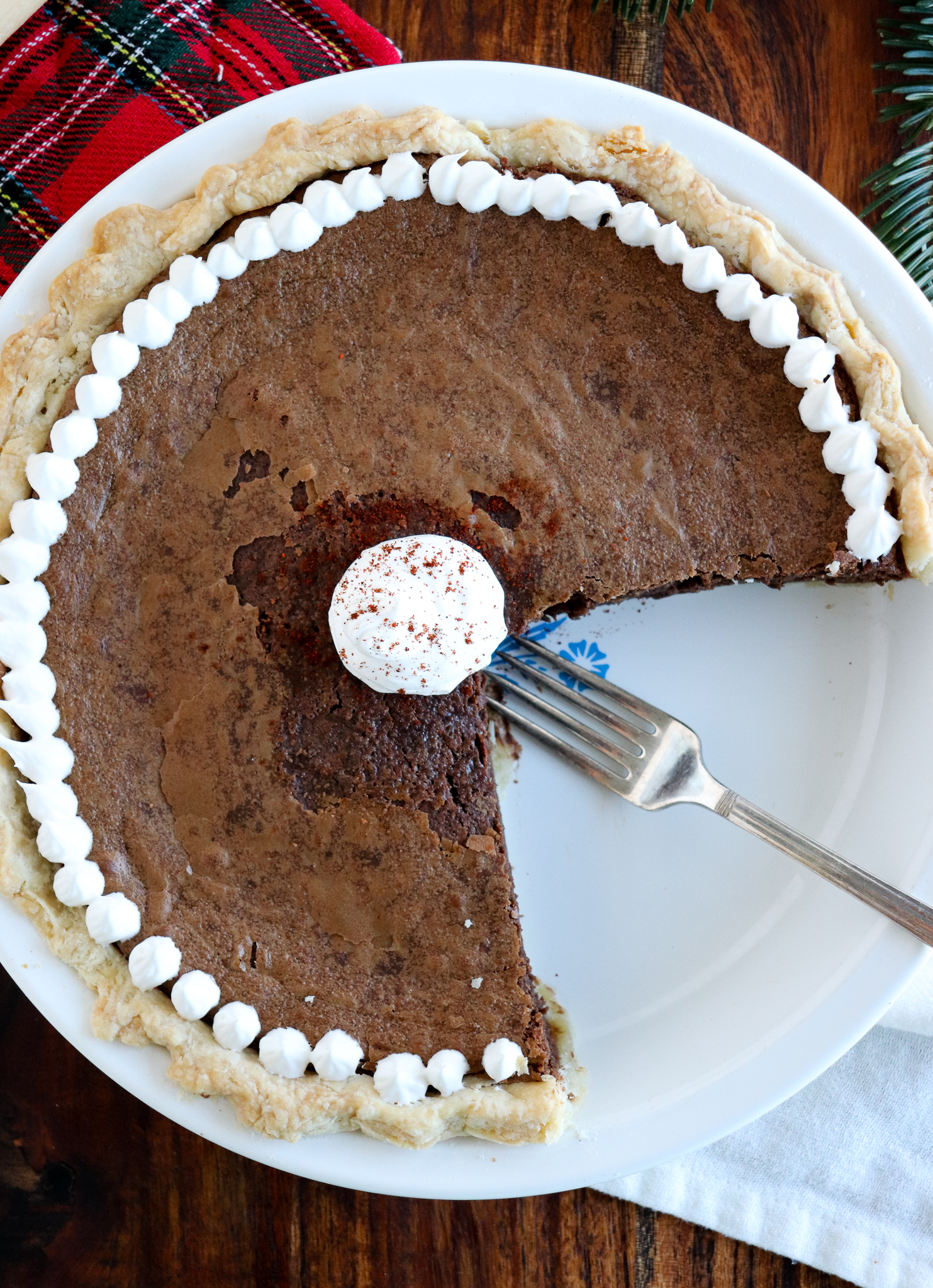 Chocolate Chips – I prefer to use a high quality dark or semi-sweet chocolate chip such as Guittiard or Ghiradelli
Nuts – Can be easily omitted.
To get the dark colored filling, you need to make sure the chocolate chips melt when you add the warm butter.
If all of the chocolate chips do not melt, it will result in a caramel colored filling with chocolate chip pieces at the bottom of the crust. Still delicious, but not the signature appearance of the Z'Tejas Fudge Pie.
Deep Dish Pie Crust
Make your own or buy one from the store. Need a pie crust recipe? Sharing a few below.
📖 Recipe
Ancho Chile Fudge Pie
Ingredients
1

- 9"

Deep Dish Prepared Pie Crust

2

teaspoon

Ancho Chile Puree

2

eggs

½

cup

All-Purpose Flour

½

cup

Brown Sugar

½

cup

Sugar

1

cup

Butter

melted

1

cup

Semi-Sweet Chocolate Chips

1

cup

Pecans or Walnuts

toasted
Instructions
Preheat oven to 350°F. Prepare the Ancho Chile puree.

To make the ancho chile puree: Pour boiling water over dried chilies in small bowl. Cover with plastic wrap and let sit for 10-15 minutes or until peppers begin to soften. Puree peppers in food processor or blender, adding just enough water until pureed consistency is reached. Set Ancho Chile puree to the side.

Beat eggs in a large bowl. Mix in flour and sugars until blended.

Melt butter and stir in chocolate chips until they are mostly melted. Add slightly cooled butter and chocolate mixture to egg and flour mixture. Mix well. Stir in nuts and Ancho Chile puree.

Pour pie filling into prepared pie crust. Bake at 350°F for 35-45 minutes or until pie is set in the middle. Remove from oven and let cool slightly.
Notes
Optional, top with vanilla ice cream of whipping cream. 
Tried this recipe?
Mention @mytxkitchen or tag #mytxkitchen!
Serving
Delicious warm or room temperature. Serve with whipped cream of vanilla ice cream. Best if eaten within 3 days. Store in the refrigerator.
Merry Christmas & Happy Holidays friends!
Alaine
Ancho Chile Fudge Pie was originally published on My TX Kitchen in December 2015. Updated in December 2020 with new photos and additional text.