Kale Caesar Salad with Tomatoes and Avocado is a quick, easy and nutrient rich side salad. Transform it into a main course by topping with grilled chicken, salmon or your favorite protein.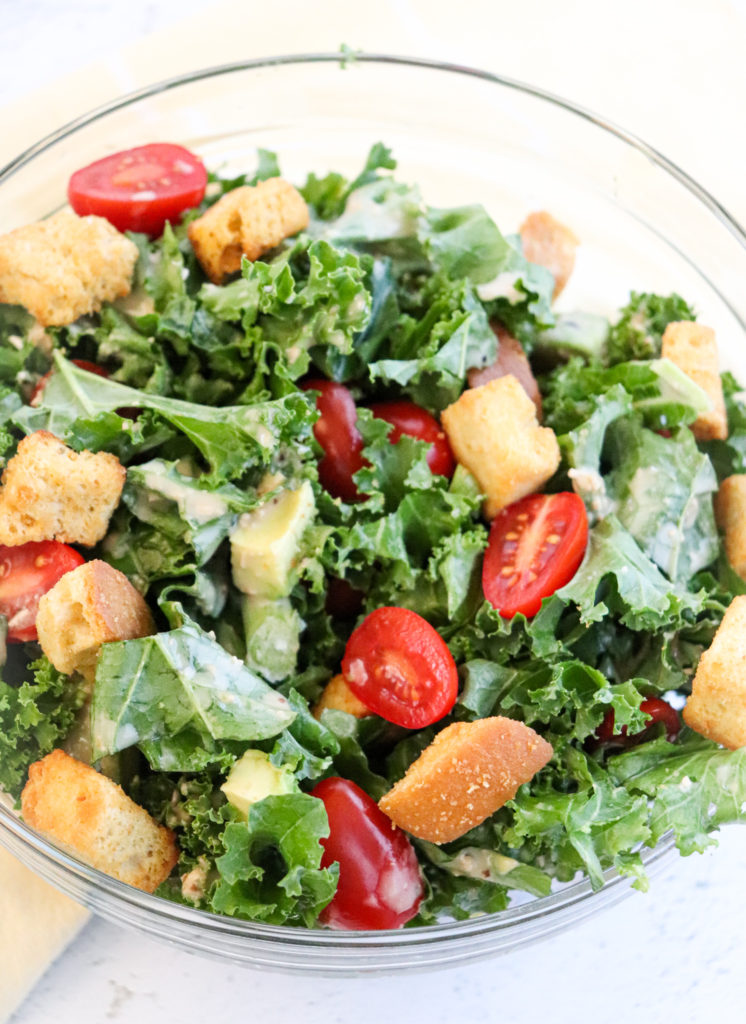 Since living a little further away from my preferred grocery store, I was having trouble with my leafy greens lasting me the whole week. After throwing out wilted spinach and romaine by mid-week, I started buying large bags of chopped kale. When kale was popular a few years ago, I used to buy it frequently, but then I moved on to Brussels sprouts and other veggies.
With a full bag of kale and some cherry tomatoes and avocado that needed to be used, I developed my version of Kale Tomato Avocado Caesar Salad. It was such a big hit with my husband that I even served it during the holidays! Not only is it easy to make, but it is nutritious and delicious as well! My favorite type of recipe to develop.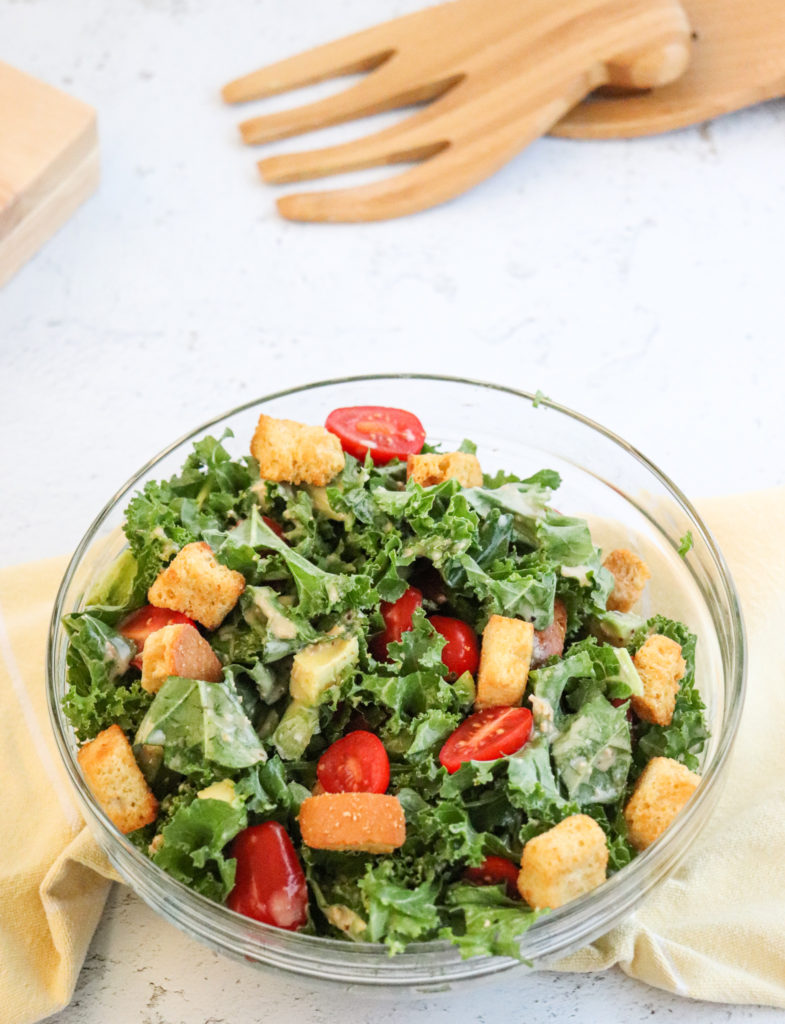 Kale
Kale is a relatively inexpensive, versatile green. One of the great things about kale is there is so much you can do with it - you can sauté it and add it to pasta sauces, mix it in smoothies, use it in soups, make homemade roasted chips and use it as a base for salads. Kale is a hearty green and it should last at least one week in the fridge without wilting.
I buy chopped bags of kale from the produce department.
Nutrition wise, kale is rich in many vitamins and minerals. One cup of kale contains over 100% of the daily value for Vitamins A, K, and C.
Caesar Salad Dressing
I do think the quality of the salad dressing makes a difference in this kale salad recipe. Use your favorite Caesar Dressing. I currently love Brianna's Homestyle Asiago Caesar Salad Dressing. It seems to be available at most grocery stores in Texas or even online here.
Serving & Meal Ideas
Garnish with fresh grated parmesan cheese and cracked black pepper.
For some dinner inspiration, here are a few different meals I've served this salad with:
Ribeye, Mac N' Cheese, Kale Caesar Salad
Spicy Chicken Drumsticks, Grits, Kale Caesar Salad
Garlic Salmon, Sweet Potatoes, Kale Caesar Salad
Top with grilled chicken or salmon to turn this Kale Caesar into an entrée.
📖 Recipe
Kale Caesar Salad with Cherry Tomatoes and Avocado
A quick, easy and nutrient-dense kale side salad. 
Ingredients
6

cups

Kale

chopped, stems removed

1

pint

Cherry Tomatoes

halved

1

Avocado

diced

¼-½

cup

Caesar Salad Dressing

1

cup

Croutons

Optional – Parrmesan and Cracked Black Pepper
Instructions
Combine kale, tomatoes and avocado in large bowl. Toss with desired amount of Caesar Salad Dressing.

Top with croutons prior to serving.
Notes
Optional: Garnish with fresh grated parmesan cheese and cracked black pepper.
Tried this recipe?
Mention @mytxkitchen or tag #mytxkitchen!
Best if enjoyed in 1-2 days.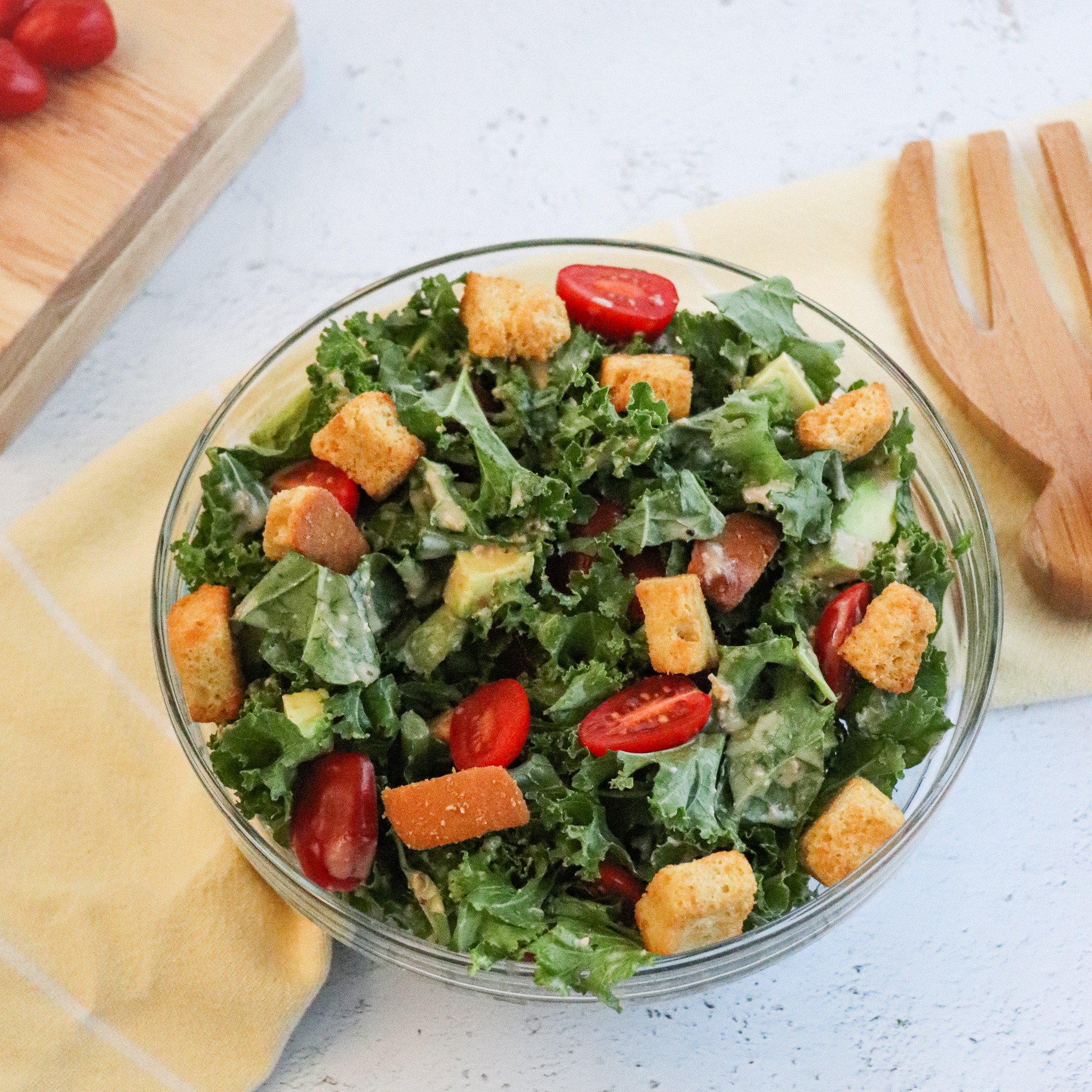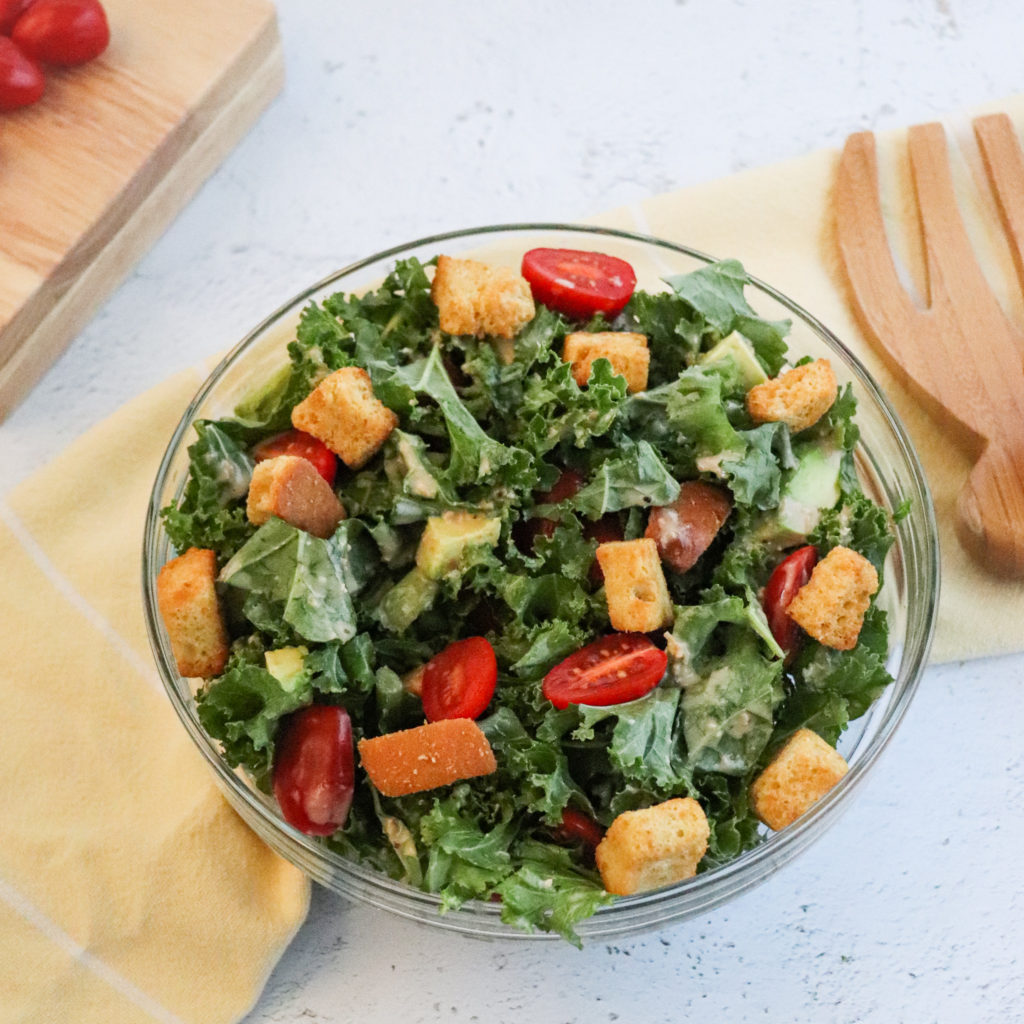 Good health,