Cranberry Apple Tuna Salad is a protein-rich salad made with tuna, diced pink apples, dried cranberries, and a simple light dressing. Makes a tasty and healthy lunch or snack.
Cranberry Apple Tuna Salad was designed with my kids in mind. I wanted to have a lunch option that was quick, protein-packed and with naturally sweet foods like apples and craisins that they love.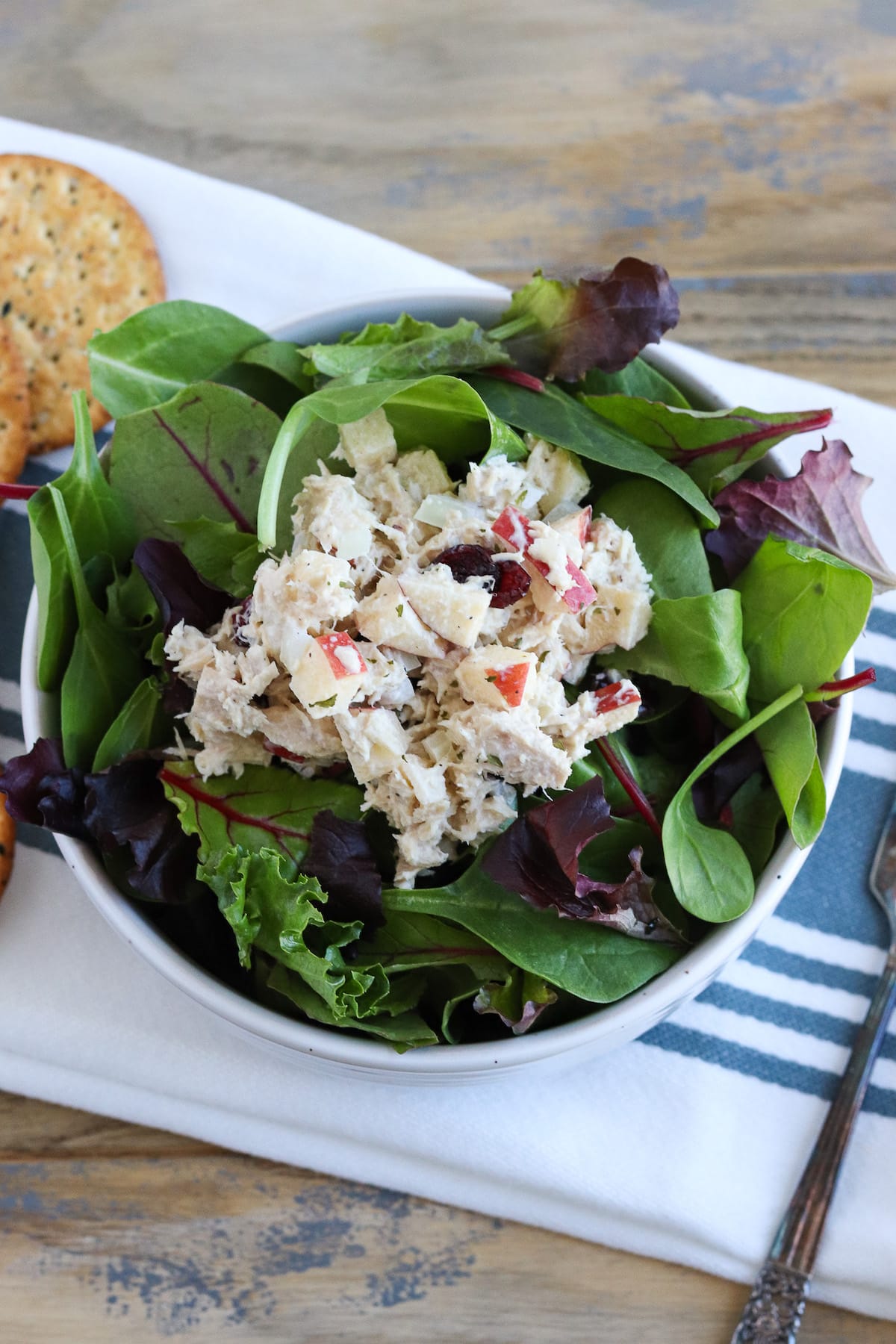 One thing I love about tuna salad is the variety of ways you can serve it. My boys enjoy it with multigrain crackers while I prefer to put a scoop on top of a bed of spring mix with a raspberry vinaigrette. I also like to make a snack lunch with tuna, celery sticks, apple slices and whole grain crackers.
Ingredients
Tuna – This recipe uses two 5 oz. cans of tuna packed in water.
Apple – Approximately one pink apple with the skin on.
Onion – I like to add just a couple of tablespoons of finely diced white onion. I use white so it blends in with the tuna but red, yellow or even a little green onion will work too. I also regularly use celery in place of the onion if I have some that needs to be used up.
Dried Cranberries – I have made this with regular and reduced sugar craisins. You can also coarsely chop the dried cranberries if you like.
Mayonnaise – I use Duke's mayonnaise for any recipe of mine. It's the only mayo I like! This salad is what I would consider lightly coated in dressing, add more mayonnaise if you prefer your tuna salad a little creamier.
Lemon Juice – Mix in a little with the mayo.
Salt & Pepper – I suggest adjusting to taste preference. For reference, I start with ¼ tsp. salt and ⅛ tsp. pepper.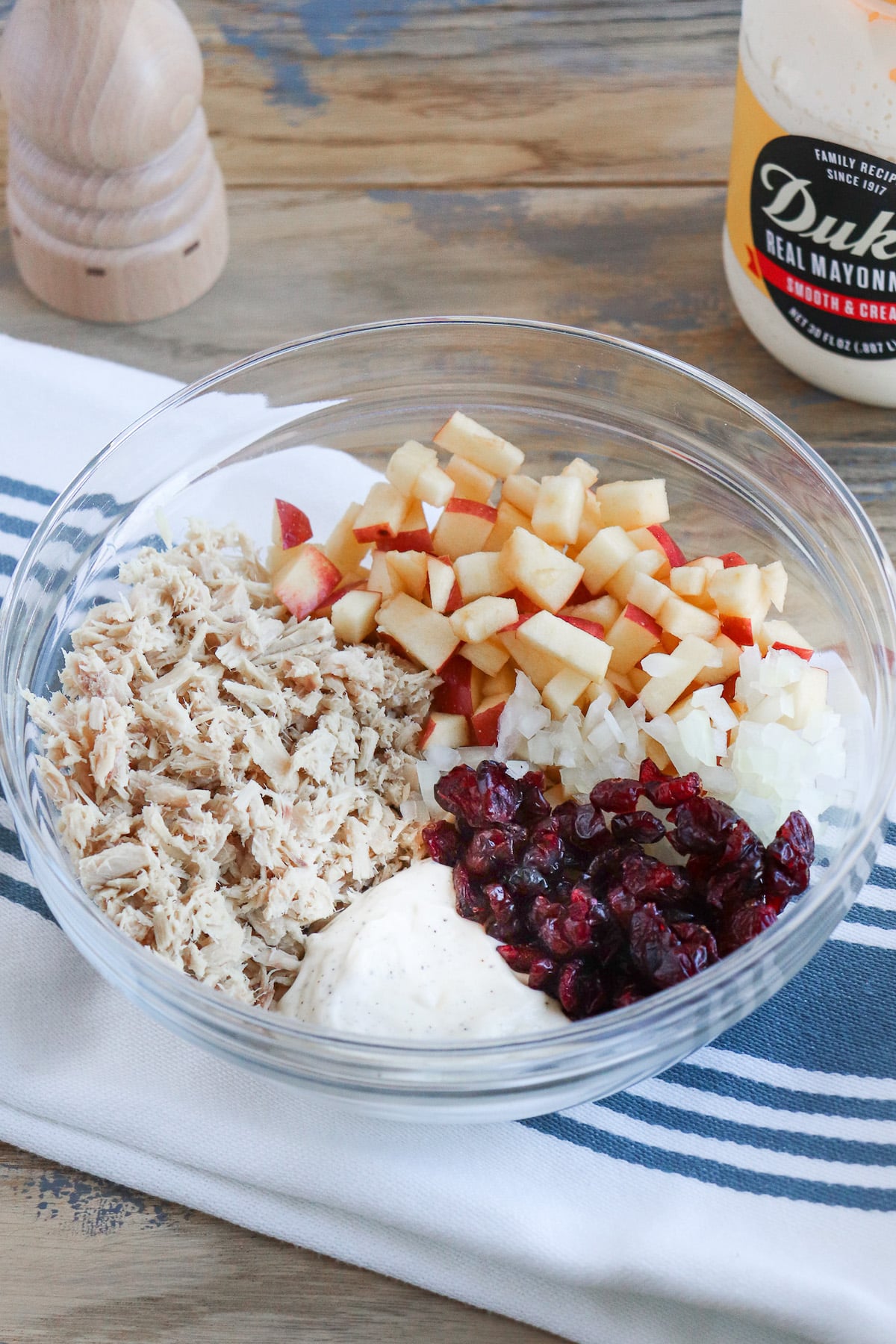 How To Make
One key to making any tuna salad is to properly drain the tuna. You want to squeeze out as much liquid as possible. Do this by pressing the opened metal lid on the tuna until no more juice comes out. Then be sure to flake the tuna by stirring with a fork.
Combine tuna, apple, and onion in a medium mixing bowl. Whisk together lemon juice and mayonnaise. I like to add salt and pepper at this point.
Pour over tuna mixture. Fold in dried cranberries. Chill and serve.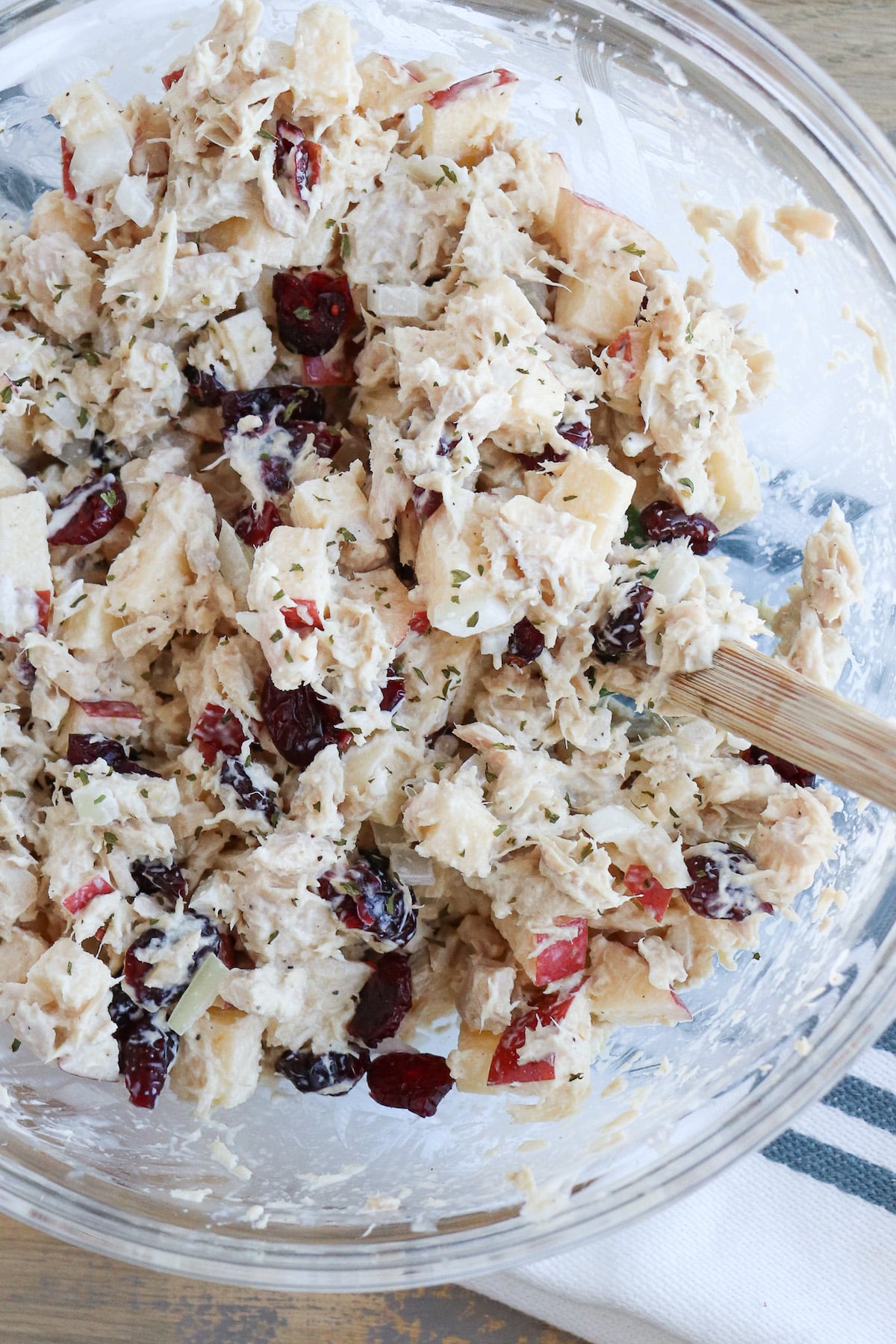 Variations
Add two tablespoons of chopped toasted nuts such as pecans or walnuts.
Substitute diced celery for the onion.
Add more mayonnaise, if you prefer a more coated tuna salad.
Storage & Serving
I think all tuna salads taste best if you allow them to chill for at least thirty minutes before serving. Cranberry Apple Tuna Salad is best if consumed within two days. Be sure to store in the refrigerator.
Serving ideas include on multigrain crackers, whole-wheat bread, or on a bed of leafy greens.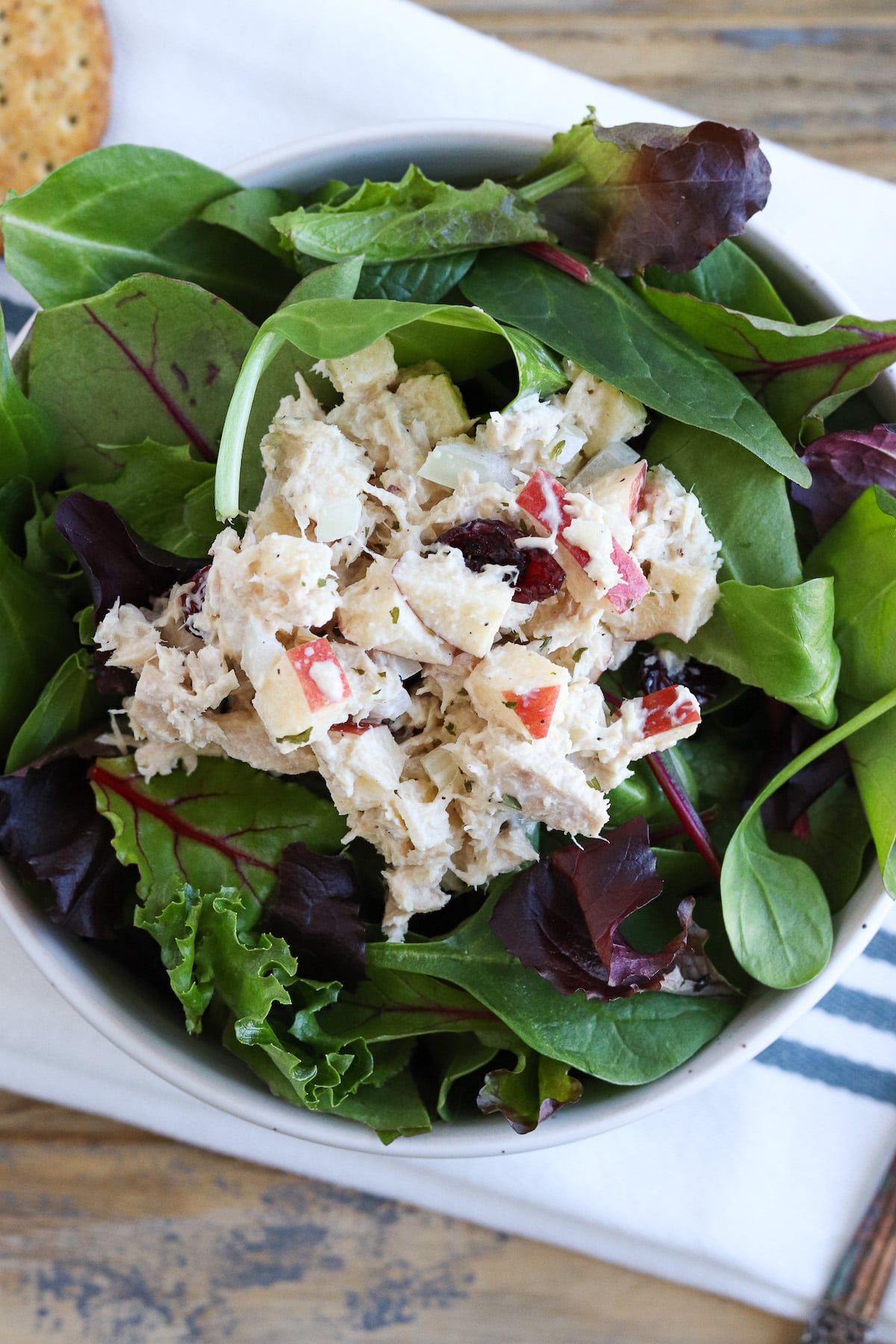 📖 Recipe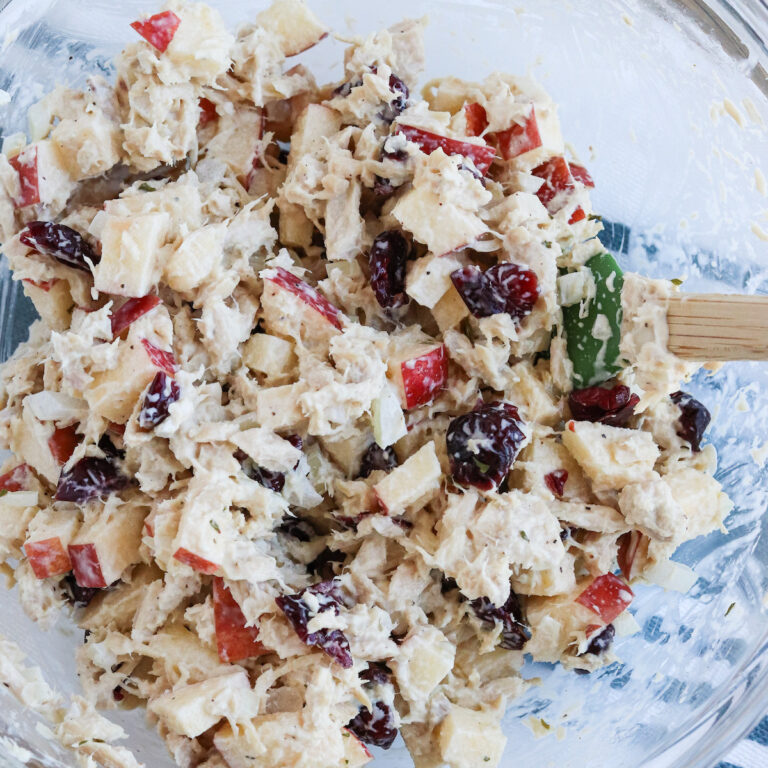 Cranberry Apple Tuna Salad
Cranberry Apple Tuna Salad is a protein-rich salad made with tuna, diced pink apples, dried cranberries, and a simple light mayonnaise based dressing
Ingredients
2 -

5 oz.

cans tuna

drained and flaked

1

cup

Pink Apple

diced

2

Tbsp.

Onion

finely chopped

¼

cup

Mayonnaise

1

tsp.

Lemon Juice

Salt and Pepper to taste

¼

cup

Dried Cranberries

Optional – garnish with parsley
Instructions
Combine tuna, apple and onion in medium mixing bowl.

Whisk together mayonnaise, lemon juice, salt and pepper. Pour into tuna mixture; Mix well. Fold in dried cranberries.

Chill for 30 minutes prior to serving.
Notes
Onion may be substituted with finely chopped celery. 
Increase mayonnaise if you prefer a creamier tuna salad. 
Tried this recipe?
Mention @mytxkitchen or tag #mytxkitchen!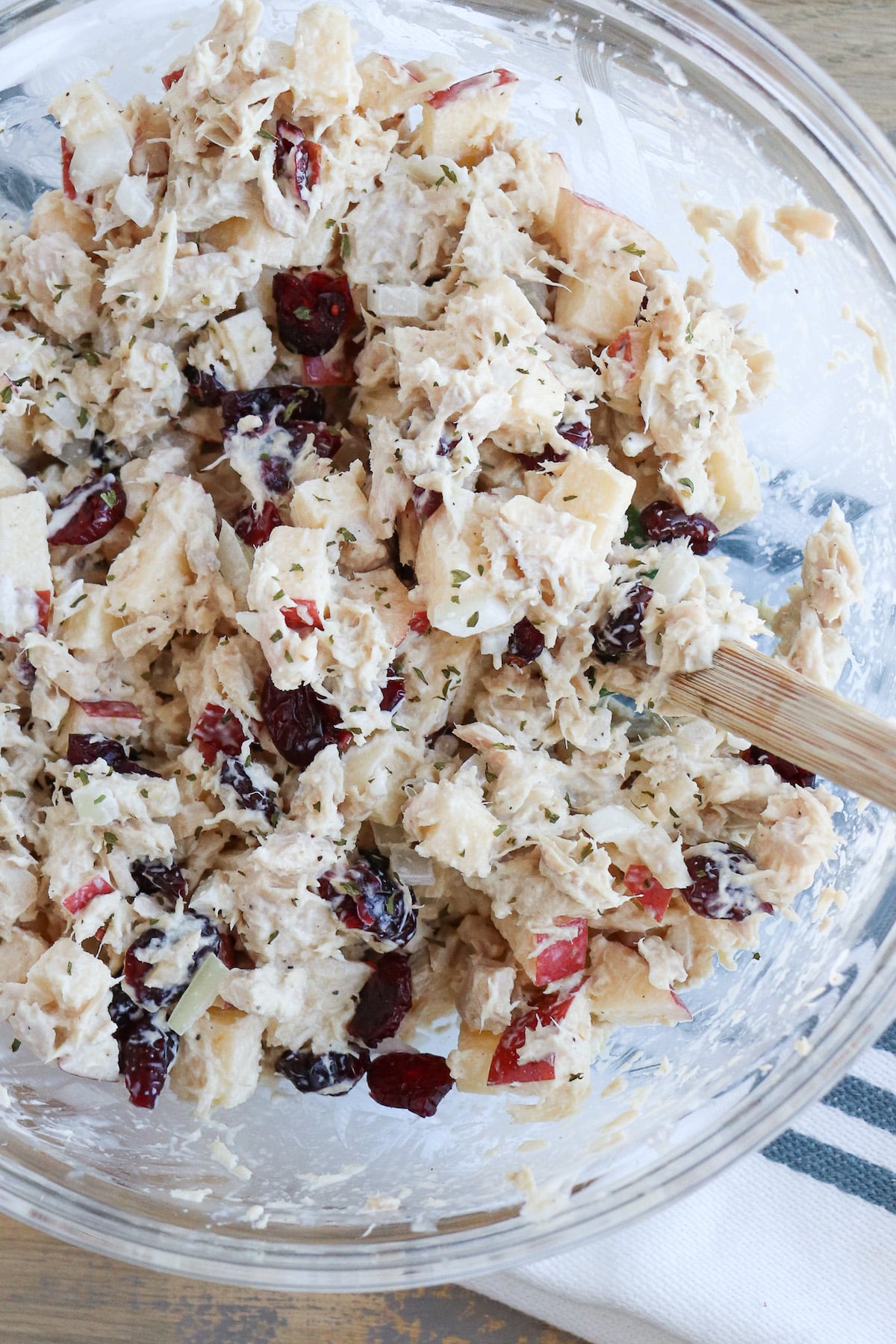 FAQ
Is cranberry apple tuna salad healthy?
Yes, tuna is a high-quality source of protein that provides essential omega-3 fatty acids and a variety of nutrients to support the immune system. Adding onion, apple and dried cranberries to the tuna salad increases the fiber and therefore the fullness one feels after eating. The mayonnaise is a small amount, light mayonnaise could be substituted to reduce total fat.
Lunchbox packing ideas?
I like to pack tuna salad with apples and cranberries in my kids lunch box. I use these affordable snack boxes and include it with the tuna salad, celery sticks, whole-grain crackers and apple slices.
Is this like Whole Foods Cranberry Apple Tuna Salad?
I have never had theirs because I don't live close to a Whole Foods. I did look at the ingredient list, it is similar to my version, but they use green onions and looks like more mayonnaise and lemon juice. If you've had both versions or make any tweaks to taste like Whole Foods feel free to share.
Cheers,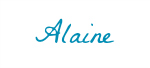 For a more classic tuna salad recipe try out my Mom's Classic Tuna Salad